Ecclestone: Briatore 'welcome' in F1
| | |
| --- | --- |
| By Matt Beer | Wednesday, January 6th 2010, 10:59 GMT |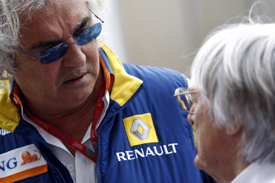 Bernie Ecclestone says he would have no problem with Flavio Briatore returning to Formula 1 now that his ban from motorsport has been overturned by a French court.
But the Formula 1 supremo doubts that Briatore would resume his former role as a team boss - and also suspects that there will be further legal arguments with the FIA already investigating its appeal options.
Ecclestone had been critical of the decision to give Briatore an indefinite ban when the World Motor Sport Council held its hearing into the 2008 Singapore Grand Prix scandal last autumn.
"I said at the time that even murderers don't get life sentences these days and the court seems to agree," Ecclestone told the Daily Express newspaper.
"He is welcome to come back to the paddock. He was a great character in F1 but I am not sure if that is what he wants to do now. I think he will move on from that.
"It's good for him but it is not good for the FIA when you read the verdict."
Ecclestone suspects that Briatore's main motorsport involvement from now on will be via driver management. He has already told the Italian press that he intends to resume this business.
"There's no reason he can't carry on as a manager if he wants," Ecclestone told the Daily Mail. "I didn't want to see him go in the first place, but it would be difficult for someone who has done something wrong to return in his old job or something similar."
He expects the FIA to press ahead with its appeal plans, but hopes that a further court case can be averted.

"It's not over by a long way," said Ecclestone. "Just because a bloody judge has said what he's said doesn't make any difference. Nothing's happened.
"The court said it was wrong, so the FIA can start all over again with a new hearing, and it will go on and on and on. That's the worst thing. It would be better if they all get round a table and see what they can do."
An FIA statement issued in the wake of the French court verdict suggested that it could take other regulatory measures to ensure Briatore and Pat Symonds' bans were enforced. The court had ruled that as the team bosses were not FIA licence-holders, it did not have the jurisdiction to prevent them working in the paddock.
"The FIA intends to consider appropriate actions to ensure that no persons who would engage, or who have engaged, in such dangerous activities or acts of intentional cheating will be allowed to participate in Formula 1 in the future," said the governing body.
Ecclestone believes a further FIA hearing is therefore possible.
"I guess the FIA will have to appeal and maybe change their rules and bring Flavio and Pat Symonds before them again, which is what I suggested they should do some time ago," he told the Independent. "We'll have to see what happens."