Briatore plans action against Piquets
| | |
| --- | --- |
| By Michele Lostia and Matt Beer | Wednesday, January 6th 2010, 10:40 GMT |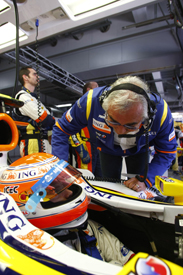 Flavio Briatore intends to pursue legal action against the Piquet family now that his ban from international motorsport has been overturned by a French court.
The former Renault boss had announced he would sue Nelson Piquet Jr and his father when the Singapore 'crashgate' scandal first broke in September last year, but then parted company with Renault and was given an indefinite ban from involvement in motor racing by the FIA's World Motor Sport Council.
That sentence was declared 'irregular' by the Tribunal de Grande Instance in Paris yesterday - although the FIA is investigating its appeal options.
When asked by Italian newspaper Gazzetta dello Sport if he was now planning to take action against the Piquets, Briatore replied: "That's very likely. The bad that has been done to me won't be forgotten in one day."
Briatore also reiterated his insistence that the ban was influenced by personal disputes between himself and former FIA president Max Mosley.
"It was a case of vengeance from Mosley, who has always managed the FIA and the World Council as if it was private property," he said.
"He had reassured me, telling me they understood I didn't have anything to do with that story. Then came that verdict. It was an ignoble thing after 18 years of F1.
"First Mosley tried to make me lose titles, first with Schumi then with Alonso, and then to destroy me with this story."
He expects to have a better relationship with the FIA under its new president Jean Todt.
"I've known Jean for years, I can bet on his honesty," said Briatore. "This is an issue between me and Mr Mosley."
He also doubts whether the FIA will be able to appeal against yesterday's decision.
"I wouldn't do it after such a verdict," he said.
Briatore suggested yesterday that he had not yet decided whether to return to Formula 1, but he intends to resume his driver management activities - another area that was affected by the FIA ban.
"Except for [Heikki] Kovalainen and [Lucas] di Grassi, my relationship with the other drivers has never changed," he said.
"In fact, now we'll analyse the situation with the lawyers to see whether we should take legal action against anyone who has broken the contracts with us."