Raikkonen: WRC title more valuable
| | |
| --- | --- |
| By Pablo Elizalde | Tuesday, January 5th 2010, 11:07 GMT |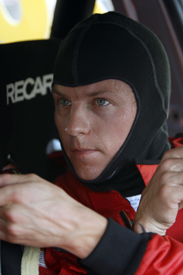 Kimi Raikkonen says winning the World Rally Championship would mean more to him than having taken the Formula 1 title.
The Finn, the 2007 F1 champion, is moving to the WRC with Citroen for 2010 after nine years in grand prix racing.
Speaking to the Red Bulletin magazine, Raikkonen admitted a WRC crown would be a huge achievement for him.
"More than my F1 world championship title," Raikkonen said when asked what a WRC title would mean to him.
"I'm just starting out and I can sense what a long journey it would be to get to that point."
Raikkonen said his move to the WRC will be the greatest challenge he has faced so far in his career.
"It's definitely the biggest challenge yet," he added. "I've got to learn everything from scratch. But I want the challenge. I have to get to know the car, the rallies, how to work with my co-driver [Kaj Lindstrom], everything.
"I'm looking forward to it. And you've got to set yourself some competition if you really want to know how good you are. I'll still be able to drive around the forest in a private rally car."
He added: "The first few rallies are bound to be tough. Until I know how fast the other drivers are, I'm holding back on any personal expectations. I'm sure I won't manage to keep up with the top four [Loeb, Dani Sordo, Hirvonen, Latvala].
"In F1, politics gets in the way of the exciting side of things. The atmosphere in rallying is much nicer and there's a lot less politics involved. It's must more about how the driver performs."
The 30-year-old Finn said the new challenge is making him feel like he's at the start of his career again.
"I'm finding a bit of the young Kimi in me again," he said. "A world rally car is quicker and tougher than the S2000 car I dove last year on the Rally Finland; it's 10 times better to driver and has more power.
"It's why you can still come out of critical situations. If the Fiat ever went sideways with its non-turbo engine, it was game over."