Hill: Schumacher could find return tough
| | |
| --- | --- |
| By Matt Beer | Thursday, December 24th 2009, 15:01 GMT |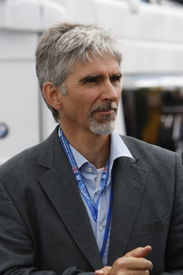 Damon Hill reckons Michael Schumacher's Formula 1 comeback might remind him why he wanted to stop racing in the first place.
Schumacher's first major rivalry in F1 was with Hill as the pair battled for world championships in the mid-1990s, with the German beating the Briton in both 1994 and 1995, before Schumacher's move to the then-troubled Ferrari team left the way clear for Hill and Williams to dominate in 1996.
Hill suspects that Schumacher's excitement at his comeback could waver when the long grind of a full season begins, and that there will soon be speculation about when he will stop racing again.
"Mentally you've got to stop anyway, so there is always that question, even though you've come back and you're going to be enjoying it," Hill told BBC Radio Five Live.
"At some point in the season it's going to get very tough and it's going to get unpleasant, and it might bring back memories of why you've retired in the first place.
"We'll have to see. A season is a long time and it will put Michael through a severe test of his abilities."
But Hill is certain that Schumacher will still be a force to be reckoned with on-track despite being the oldest driver in the 2010 field.
"Forty one is definitely getting towards the 'over the hill' stage, but you're talking about a very unusual individual, and someone who has done nothing else but race in some form or another all his life, and he's clearly missed it," Hill said.
"He's set himself up now with a golden opportunity to add to his tally of world championships."
Hill was 39 years old when he retired from F1 at the end of 1999. Since then he has only competed at historic events such as the Goodwood Revival, and has become president of Silverstone's owner, the British Racing Drivers' Club. He also actively supports the racing career of his 18-year-old son Josh, who currently races in Formula Ford.