Brawn: Button left to prove himself
| | |
| --- | --- |
| By Simon Strang | Wednesday, December 23rd 2009, 17:29 GMT |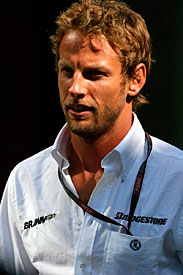 Ross Brawn believes that reigning Formula 1 world champion Jenson Button left Brawn GP to prove his worth as a world champion in different machinery, rather than because of differences over his pay for 2010.
On the day that Mercedes Grand Prix (formerly Brawn) announced that it had signed Michael Schumacher for next season, Brawn told BBC Five Live that Button's decision to quit the team had been motivated by a need to prove his ability against Lewis Hamilton in a McLaren team that is perceived to be structured around the 2008 world champion.
"Jenson wants to prove he can do it with another team and another car," said Brawn. "I don't think Jenson left because of money; the proposals we made to Jenson were very good.
"There was a feeling that he somehow lucked into this championship and that was very unfair. Now, he's going to face Lewis Hamilton and that's a fascinating match-up.
"Formula 1 is a complex matter because the ratio between the car and the driver can vary. A top-level driver needs the equivalent. There is a huge war to try and improve the cars and I think Jenson wants to prove he can do it elsewhere."
Brawn also confirmed that he only decided to contact Schumacher about his availability after he knew that Button was leaving the team to join McLaren.
"We were in deep discussion with Jenson and I wanted to bottom those out before we entered into discussions with Michael," he said. "We didn't want to see Jenson leave but I could understand his reasons."