Comeback kids: F1's famous returnees
| | |
| --- | --- |
| By Michele Merlino and Simon Strang | Wednesday, December 23rd 2009, 16:25 GMT |
As the most successful driver in the history of the sport prepares for his return in 2010, AUTOSPORT takes a look at the illustrious list of famous names that Michael Schumacher will join when he takes to the Bahrain grid in 2010.
For multiple champions like Niki Lauda and Alain Prost the allure of winning at the highest level proved too much to stay away from, while other greats like Alan Jones and Nigel Mansell still felt they had more to achieve. For Michael Schumacher it seems he never might never have wanted to be away in the first place, either way the sport's history is full of comeback stories through the years.
Jose Froilan Gonzalez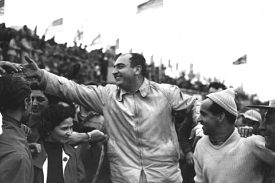 Gonzalez finished runner-up in the 1954 world championship but he is most famous for scoring Ferrari's maiden win in the 1951 British Grand Prix. He raced full-time until 1954 and after that made one-off appearances in his home race - the Argentinian GP (as well as the 1956 British GP) until 1957.
Then, after two years away from F1 altogether, he made a comeback for Ferrari, again in Argentina, in 1960 and finished 10th.
Mike Hailwood
'Mike the bike' began his F1 career in the 1963 British Grand Prix driving Red Parnell Racing's Lotus 25. At the time he was still on his way to a third world motorcycle championship with MV Agusta. The Briton continued to combine his racing exploits in both disciplines until 1966 when he switched back to bikes full-time, adding four more world titles to his name in the process.
He returned to F1 in 1971 with the Surtees team. This second chapter brought him a fastest lap in the 1972 South African Grand Prix and two podium finishes. He finally retired from the sport at the end of 1974 aged just 34.
Dan Gurney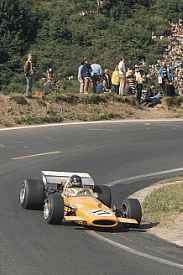 Dan Gurney was offered a drive with Ferrari's Formula 1 team in 1959. He switched to BRM in 1960 but his breakthrough win came in 1962 when he scored Porsche's only F1 win as a constructor at Rouen. Two more wins came with three years at Brabham, including the team's first, also at Rouen, in '64.
Through this time he earned a fierce reputation as an under-rated competitor carrying the respect of the likes of Jim Clark. Championship glory eluded him as he opted to create the All American Racers team along with Carroll Shelby. His last win came at Spa in 1967 with the Eagle Weslake. In 1969 Gurney walked away from F1 to compete in the USAC Series (pre-IndyCar) and CanAm. He returned to F1 in 1970 for three races at McLaren.
Alan Jones
Was the second Australian driver to win the F1 world championship after Jack Brabham. Jones won four grands prix in 1979 with William and followed that up with title success in 1980. He couldn't repeat that high in 1981, in a year marked by a bitter feud with his team-mate Carlos Reutemann. Ultimately the title went to Nelson Piquet. Disenchanted by F1's rules and some of its drivers, he retired immediately after winning the season finale at Las Vegas.
He made an ill-advised return to the under-funded Arrows team in the 1983 Long Beach Grand Prix, but stopped again before returning at the end of 1985 with the Carl Haas-run Beatrice Lola project. He completed the following season with the same manufacturer, gaining four points and ending 12th in the standings.
Jacques Villeneuve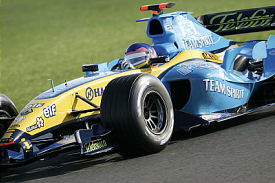 The Canadian joined Williams in 1996. He nearly won on his F1 debut at Melbourne, but did score four victories and finished runner-up in his debut year. He followed that up with the title and seven more wins in '97.
He opted to join his manager Craig Pollock's BAR F1 project in 1999 and toiled until 2003 trying to make it competitive. David Richards took over the team in 2003, and Villeneuve fell from favour. He was dropped from the team prior to the 2003 Japanese Grand Prix.
An enforced break ensued until Flavio Briatore brought him back to replace Jarno Trulli at Renault in the final races of 2004. He then completed two more seasons with Sauber and BMW-Sauber - but never won a race after 1997.
Niki Lauda
Famous for turning around the fortunes of a waning Ferrari team in the mid-70s along with Luca di Montezemolo, the Austrian might have won three consecutive world titles from 1975-77 but for his near-fatal accident at the Nurburgring in '76. Lauda left Ferrari at the end of '77 and joined Brabham winning two races in 1978. In a characteristically forthright manner he pulled in to the pits during practice for the Canadian Grand Prix and informed that Bernie Ecclestone that had lost interest in racing cars and retired on the spot.
In the next two-and-a-half years he built up commercial airline Lauda Air, but Ron Dennis courted him back to McLaren in 1982. He won two races, Long Beach and Brands Hatch on his return before beating team-mate Alain Prost to the 1984 world championship. Lauda's final win came in Holland in 1985 and he retired for good at the season's end.
Nigel Mansell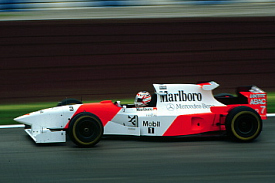 The Briton only scored his maiden win with Williams at Brands Hatch in 1985, after more than four years of toil with Lotus. A concerted effort on the 1986 world title then famously blew up in a shower of sparks, along with his rear-tyre, at Adelaide. He was beaten by Nelson Piquet to the 1987 world title crashing heavily in qualifying for the Japanese Grand Prix. Mansell joined Ferrari in 1989 and won on his debut in Brazil. The tifosi loved him, but in 1990 he became disillusioned by the politics of racing alongside Alain Prost and announced at the British Grand Prix that he was quitting the sport.
He didn't follow through with his threat and instead re-joined Williams where he dominated the 1992 world championship. But when the team announced it had signed Prost for 1993, Mansell quit F1 for the US. He won the 1993 IndyCar crown with Newman Haas. But in 1994 Williams and Renault asked him to return after the death of Ayrton Senna. He ran four races that year, winning the final event in Australia. He signed for McLaren for the 1995 season, but the partnership failed to take off and Mansell left after only two races.
Alain Prost
Perhaps the defining driver of the 1980s, the Frenchman was a contender for every drivers' world championship title bar his debut season with McLaren in 1980. Prost joined Renault in 1981 where he was a pace-setter and won his first race at Paul Ricard. Two more wins followed that year, and another two in the following season. Took Nelson Piquet to the wire in 1983, before switching to McLaren and finally taking a title of his own in 1985. Another followed in '86 and a third, controversially against team-mate Ayrton Senna in 1989.
The fall-out from this rivalry fuelled his switch to Ferrari in 1990, where he nearly gave the team it's first title since Jody Scheckter in 1979. Instead he and Senna crashed in Japan, handing the championship to the Brazilian. The 1991 Ferrari was less successful and Prost was fired at the end of the season for comparing it to a truck.
He took a sabbatical in 1992 before joining Williams and dominating the following year to secure a fourth title, whereupon he retired from F1 on his own terms.
Other noteable facts about breaks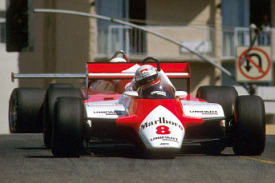 • Of the list above, only Lauda, Prost and Mansell won races after their comeback.
• Three unusual comebacks were recorded in recent times: Mika Hakkinen, Fernando Alonso and Felipe Massa were all relegated to test-driver roles after their first year in Formula 1 and resumed far more successful careers after that experience.
• It's the first time that a driver over 40 years of age has climbed into a Formula 1 car during a race weekend since Chanoch Nissany tested for Minardi at the 2005 Hungarian Grand Prix on the 29th of July. It was his 42nd birthday
• The last driver over 40 to start a race was Nigel Mansell, at the 1995 Spanish Grand Prix (41 years, 9 months and 6 days).
• The oldest driver ever to start a race was Louis Chiron: he was 55 years, 9 months and 19 days old at the 1955 Monaco Grand Prix.
• Michael Scumacher will beat a long-standing record in Formula 1: the one related to the longest career span between two races. At the moment Schumacher lays sixth in the rankings behind Jack Brabham, Riccardo Patrese, Luca Badoer, Rubens Barrichello, and Graham Hill who established the record in the 1975 Brazilian Grand Prix, starting his last race 16 years, eight months and eight days after his maiden race, the 1958 Monaco Grand Prix. Hill participated in another two race weekends that year, South Africa and Monaco, failing to qualify. When he starts the race in Bahrain, 2010, Schumacher will snatch that record with a career that will have spanned 18 years, 6 months and 17 days .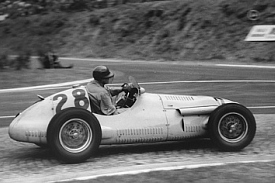 • Despite Schumacher's presence in Bahrain, at the age of 41, the event won't be the one with the highest age difference between two drivers on the starting grid. That record belongs to the 1952 French Grand Prix, when Peter Collins (20 years, 8 months) and Philippe Etancelin (55 years, 6 months and 8 days) were at the opposite edges of the age chart.
• Michael Schumacher already holds the record for the longest timespan between wins (14 years, 1 month and 1 day from Belgium 1992 to China 2006) and fastest laps (14 years, 1 month and 22 days from Belgium 1992 and Brazil 2006), but misses the one for pole positions (Rubens Barrichello, 15 years, 1 month and 20 days from the 1994 Belgian Grand Prix to the 2009 Brazilian Grand Prix) and podiums (Rubens Barrichello, 15 years 4 months and 27 days from the 1994 Pacific Grand Prix to the 2009 Italian Grand Prix). But a pole or a podium next year will also claims these records.