Brawn: Schumacher can still win
| | |
| --- | --- |
| By Steven English and Jonathan Noble | Wednesday, December 23rd 2009, 11:11 GMT |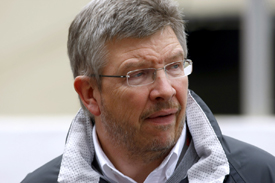 Ross Brawn believes Michael Schumacher is still capable of winning in Formula 1, after the seven time world champion gave his word that he can still do it.
Schumacher will turn 41 in January and has been out of Formula 1 since the end of the 2006 season, but is confident that he can return to the level he was at before his retirement.
"I asked Michael that question and he is the best judge of what he can do," Brawn said. "I trust him explicitly and he told me he can do it.
"He has always been his own best critic, the man himself knows what he is capable of. I am very comfortable and confident and put my trust in Michael, and it won't be misplaced."
Brawn denied that Jenson Button was pushed out of the team to make way for Schumacher, following the Briton's surprise switch to McLaren.
"I don't think that is the case," said Brawn. "We made a good effort to try to find a solution with Jenson and it didn't work out. Jenson made his decision in the end not to stay. We made a big effort to keep him but it wasn't possible in the end.
"It overlapped to be honest. I had a loyalty to Jenson but when that started to look difficult I started talking to Michael, and things developed from there.
"Michael and I kept very close over the years and I saw from his disappointment over the summer, when he couldn't drive a Ferrari, how much passion he still has for the sport. We're incredibly excited now about the prospect of Michael being part of the team."