Schumacher return close to reality
| | |
| --- | --- |
| By Simon Strang and Michele Lostia | Wednesday, December 23rd 2009, 00:52 GMT |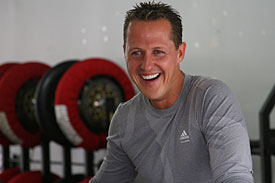 Michael Schumacher's full-time return to Formula 1 moved a step closer to reality on Tuesday evening after the German newspaper Bild reported on its website that the seven-time world champion had signed a one-year contract with the former Brawn GP team, now owned by Mercedes.
Speculation is mounting that an announcement confirming the deal will be released imminently.
Schumacher, who last competed in a grand prix for Ferrari in Brazil three years ago, told his former team last week that there was a "very, very, very strong possibility" that he would race for the new Mercedes Grand Prix team in 2010.
AUTOSPORT understands that a deal had been agreed in principle earlier this month but that both parties were waiting until the German had been told by medical experts that his neck was 100 per cent ready for an F1 return before committing to a binding agreement.
The Bild newspaper report suggests that Schumacher signed the deal at the Mercedes team's headquarters in Brackley earlier today and that he stands to earn 7 million Euros to drive for the team alongside fellow German Nico Rosberg.
So far neither Schumacher or Mercedes have commented publicly on the speculation.
The deal would also mean a rekindling of Schumacher's relationship with Ross Brawn, who oversaw each of the German's seven world titles, including his first two at Benetton in 1994-'95.
Schumacher is the most successful driver in the history of the sport, amassing a total of 91 victories, seven of which he scored in his final year of competition in 2006.
The 40-year-old looked set to make a comeback earlier in the year, as a stand-in replacement at Ferrari for Felipe Massa who sustained serious head injuries in a freak qualifying accident in Hungary. But Schumacher was forced to curtail his plans due to a serious neck injury of his own that had not healed sufficiently.
Ferrari president Luca di Montezemolo told the press recently that he believed Michael Schumacher's desire to return to the sport was undiminished and that he had been disappointed not to be able to replace Massa.
"Michael was more than sad that he couldn't replace Felipe, he was destroyed," the Italian said during Ferrari's recent Christmas lunch. "I had called him into my office and said 'I need you. I need you to replace Felipe.' For five minutes, and it was five minutes and not ten, he said no. Then, 'Yes!'"
"He says that I convinced him well but that's not true, he was ready to be convinced!"