Briatore hits back at Mosley
| | |
| --- | --- |
| By Jonathan Noble | Friday, December 18th 2009, 15:35 GMT |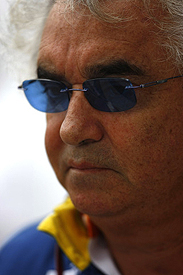 Flavio Briatore says he is unmoved by Max Mosley's fresh criticisms of him - and in fact says that the former FIA president has some answering to do in relation to his involvement in the race-fix case.
Mosley issued a statement on Thursday strongly denying suggestions that the FIA's decision to impose an indefinite ban from motor sport on Flavio Briatore was fuelled by revenge.
Briatore himself has now responded to Mosley's latest claims - and says he does not understand why the matter has been dragged into the public domain once more.
"I was made aware of the terms of the press statement made by the former President of the FIA, Mr Max Mosley as regards the decision that he took as the head of the Motor Sport World Council on 21st September 2009," said Briatore, who is awaiting a verdict from the French courts after the legality of the matter.
"It is difficult to ascertain whether Mr Mosley is just losing his temper while waiting the decision to be issued by the French courts or if, after having lost his position as a key person in Motor Racing, he is just eager to regain media coverage by making provocative attacks against myself, amongst others."
Briatore has said he remains convinced the punishment handed out to him was unjust - and does not understand why his absence from the FIA trial was brought up as a factor in his penalty after revealing that it was Mosley who told him to stay away.
"It is quite intriguing to hear that Mr Mosley would now pretend that the FIA rendered a fair decision against me at the end of a process of fair justice," explained Briatore.
"This is certainly not the position that the current leadership of the FIA expressed before the French Civil Courts, where everyone could hear Counsel for FIA stating that the World Council took only a decision of an 'administrative nature', did not issue any ruling against myself and was thus actually not bound to comply with any standards of civilized justice.
"I would also have been glad to hear Mr Mosley explain that he expressed to me over the phone on September 19th 2009, that my presence at the hearing of the World Council of 21st September was neither necessary nor desirable, in the context of a difficult session for Renault, while since such hearing may, in any event, not result into any decision against myself."