Abu Dhabi gets WRC candidate event
| | |
| --- | --- |
| By Steven English | Thursday, December 17th 2009, 10:22 GMT |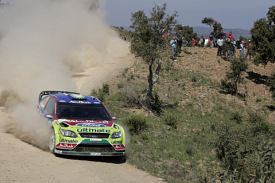 Abu Dhabi is targeting a World Rally Championship round in 2011, and will hold a candidate event in December 2010 using Super 2000-spec cars.
Rally Abu Dhabi will be run next year as a non-championship rally under FIA supervision as one of several candidate events, and its bosses are hopeful of a place on the 2011 WRC calendar, when the Super 2000 regulations come info force.
The emirate is the title sponsor of the factory Ford WRC team, which runs UAE driver Sheikh Khalid al Qassimi alongside Finns Mikko Hirvonen and Jari-Matti Latvala.
"While sponsorship of the Ford team and the inclusion of Al-Qassimi in the outfit's ranks have proven successful, staging a round of the off-road series in the UAE was always the long-term plan," Sheikh Sultan bin Tahnoon al Nahyan, chairman of the Abu Dhabi Tourism Authority (ADTA), told UAE newspaper The National.
"This is a major leap forward in Abu Dhabi's motorsport ambitions. We are confident we have the right experience, pedigree, determination and skills to deliver a unique and highly successful round of the WRC, and that our 2011 ambitions can be fully realised."
The candidate event will comprise stages outside of Abu Dhabi, in Al-Ain and Qasr-al-Sarab in the Liwa Desert in the Empty Quarter. Its December date will ensure that it is after the conclusion of both the WRC and Middle East Rally Championship seasons.
Ahmed Hussain, of the ADTA, believes that running the event to Super 2000 regulations just weeks before the first S2000 WRC round will ensure that WRC competitors enter the non-championship event.
"It's going to be Super 2000s with the new regulations, it will be interesting," he told The National. "New cars in, a new rally, with new stages - it will be very appealing for everyone.
"It's not about pricing or appearance fees, there will be no payments. The rally will be a surprise for all drivers around the world - they will all want to come. The relationship with the teams, drivers, manufacturers has developed in the last couple of years and they want to support us by being part of Rally Abu Dhabi in 2010.
"Of course they will come, participation will be strong and the vast variation of the terrain will be one of the attractive issues."