Di Grassi: F1 drive a dream come true
| | |
| --- | --- |
| By Mark Glendenning and Pablo Elizalde | Tuesday, December 15th 2009, 13:34 GMT |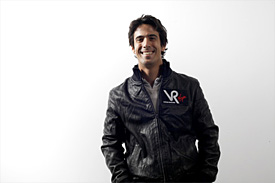 Lucas di Grassi says securing a deal to race in Formula 1 is a dream come true, after the Brazilian was confirmed as Timo Glock's team-mate at the Virgin Racing team for next year.
Di Grassi has raced in GP2 for the past four years, while also working as the Renault F1 team's test driver.
After such a long time in GP2, he is thrilled he is getting the break to race in Formula 1.
"It has been a lot of preparation and a lot of hard work for the past years," di Grassi told reporters during the official launch of his new team. "And finally to get a race seat this year is just a dream come true. It's amazing.
"I've been in GP2 for a lot of seasons, having good results and also testing for Renault F1 for two years.
"And now I think I'm at the best point of my career, as best prepared as I can be, so I think it's a great opportunity for me to start in such a solid team with such a good team-mate in F1," added di Grassi.
The Brazilian, 25, said he never stopped believing that he would reach Formula 1, despite some missed opportunities over the past years.
"I think the opportunity slipped a couple of times," he added. "I think sometimes for a good reason, sometimes for a bad reason.
"I don't think doubt is the word. I was always working as hard as I could in every single aspect of my career, to try to get the biggest chance for this day to happen. I always believed, I never really stopped pushing, so it finally arrived.
"Now it's just the start of a new challenge for me. So I'm going to be even more motivated, and will work even harder to try to cope with F1.
"F1 is a different level from GP2, it's a different level from F1 testing, so I have to adapt and prepare myself as best as I can to have a long and successful career in F1, and that's what I'm aiming for."
Di Grassi reckons that, despite the missed chances to join F1 earlier, he is becoming a grand prix racing driver at the right time.
"If I had been in F1 maybe four years ago I would not have had the chance to have a long career as I have now, because I'm much more experienced and much more mature than I was three or four years ago," di Grassi added.
"The example is Massa, who is a great talent and he came into F1 very young and he almost lost his seat after a year.
"He went back to be a test driver after a year of racing and with more experience he came back to be one of the top drivers today. So my aim is to do step by step and I think I'm starting in a good position to do so."