Virgin promises innovative approaches
| | |
| --- | --- |
| By Jonathan Noble | Tuesday, December 15th 2009, 12:19 GMT |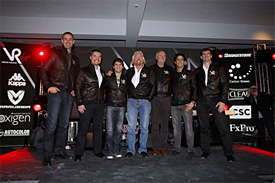 Virgin Racing chiefs have promised to bring some innovative approaches into Formula 1 next year - as the eyes a closer relationship with the sport's fans.
New team principal and CEO Alex Tai said he hoped that the philosophy the Virgin Group had shown in other business ventures would prove just as successful in grand prix racing.
"At Virgin Racing we have a remarkable group of experienced people who have come together to make the impossible possible," he explained.
"Virgin Racing is a real racing team founded by real racers, which has a clearly defined path towards achieving success. This will be our core focus, but at the same time we intend to be a team with great spirit.
"Over the past few months we've spent a lot of time understanding the contribution we can make to the sport, the fans and our partners. We have ambitious plans for 2010 and I am delighted that these have inspired the confidence of the nine new sponsor partners we have announced within our official launch today."
Virgin Racing has appointed former BBC Worldwide chairman Etienne de Villiers, who has also worked at the Walt Disney company, as its non-executive chairman to advise on media and marketing.
"Formula 1 is one of the greatest international sports franchises and offers great rewards to those that get it right," he said.
"It is a remarkably challenging environment that pits the best against the best in an ever changing landscape. The new limitations and entrants makes it even more demanding but also more attractive.
"I am really confident that the mix of resources, experience ,skills and values that Virgin Racing bring to the party will surprise a few and hopefully entertain and reward many."