Campos still in talks with de la Rosa
| | |
| --- | --- |
| By Pablo Elizalde | Tuesday, December 15th 2009, 10:15 GMT |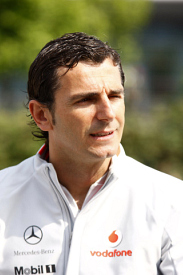 Campos team president Jose Ramon Carabante says the Spanish squad is still in talks with Pedro de la Rosa to fill the second seat for its debut season.
Although team boss Adrian Campos had said it would be almost impossible to bring de la Rosa because of the lack of Spanish backers, Carabante insisted the Spanish driver is still on its list.
He admitted, however, that signing de la Rosa would depend on finding the money to cover the budget without having to ask the veteran driver to bring sponsors with him.
"Talks with Pedro de la Rosa are not broken," Carabante told Onda Cero radio. "It would be a dream if he was our driver next season.
"As of today there's a chance that the seat left could go to a Spanish driver and, of course, for us the dream would be if it was Pedro de la Rosa. Talks with him have never been broken."
He added: "We would have Pedro for free if it was necessary, without him having to bring anything. With the budget covered, I can guarantee you that Adrian Campos's first option... is to bring Pedro because he's a person we love and we would be thrilled to have him in our team, but it depends a lot on the sponsors.
"As of today, Pedro is the only Spanish driver we are considering."
Carabante conceded that Venezuelan Pastor Maldonado and Russian Vitaly Petrov are still the most likely candidates to partner Bruno Senna at the team next year.
"There are other options with drivers backed by countries, like Pastor Maldonado, who has 20,000 companies who want to join, or Vitaly Petrov," he said.
"There is some other option, but our target is to sign the second driver before the end of the year and we hope to achieve that."
Carabante, whose team's car for 2010 will be built by Dallara, said Campos is aiming to build its own chassis in its Murcia base in the future.
He also revealed the team is in talks with Ferrari over an engine deal for 2011.
"Our intention is to have Ferrari engines after a year with Cosworth. It's all progressing well," he said.