Pagenaud switches to Highcroft
| | |
| --- | --- |
| By Matt Beer | Monday, December 14th 2009, 14:11 GMT |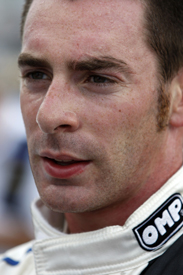 American Le Mans Series champion team Highcroft has signed Simon Pagenaud, who formerly drove for its arch-rival De Ferran Motorsports.
Pagenaud will join Highcroft's lead driver David Brabham in the team's LMP Acura next season. He replaces Scott Sharp, who will concentrate on his new GT Ferrari team in 2010.
Highcroft boss Duncan Dayton was delighted to secure Pagenaud's services.
"He is someone we have had our eye on and were worried about when he was competing against us because he is bloody quick," said Dayton.
"When the opportunity arose to secure his services for Patron Highcroft Racing, we jumped at it. It was an obvious choice, because we will be able to plug him straight into our programme.
"He is familiar with the car, the series and the tracks. He knows a lot of our guys, so we will be able to immediately start serious testing. I think we are going to have a seriously fast driver pairing with Simon and David.
"We'd rather have Simon fighting for us, rather than against us, so it will be great to have him in Patron Highcroft colors next year."
Pagenaud originally switched to American racing to compete in the Atlantic series in 2006, winning the championship and then graduating to Champ Car with Walker Racing's Team Australia programme. Despite impressing in single-seaters, he felt sportscars offered a more secure future and joined Gil de Ferran's team for its ALMS debut in 2008. He was also part of Peugeot's LMP1 programme this year.
"The last two years in the American Le Mans Series have been very important for my career and I am looking forward to returning as a driver for the Patron Highcroft Racing Team alongside David Brabham, who I have a lot of respect for," said the 25-year-old Frenchman.
"When I made the decision to move to the US it was to focus on open wheel racing, but then an opportunity opened up for me in ALMS with Gil De Ferran and now to continue on racing here in the States with Patron Highcroft Racing is great. I am really looking forward to next year."
Highcroft recently announced it would become Honda Performance Development's lead squad in the ALMS next season, using a version of the LMP2 Acura modified to suit the championship's new combined prototype class.
De Ferran's team has yet to announce its 2010 plans. It had originally hoped to continue in the ALMS and add an IndyCar programme.