FIA invites proposals to improve 2010
| | |
| --- | --- |
| By Steven English | Friday, December 11th 2009, 15:55 GMT |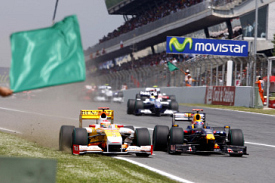 The FIA has asked the Formula 1 Sporting Working Group to bring forward proposals for making F1 more entertaining in time to be implemented for the 2010 season.
The Sporting Working Group, which is a sub-committee of the F1 Commission made up of representatives of the Formula 1 teams, including technical directors, is to make its recommendations to the January meeting of the governing body's World Motor Council.
AUTOSPORT sources suggest that overtaking is a particular area of concern, with the leading teams believed to have already recovered much of the downforce lost to the 2009 regulations changes - it is predicted that downforce levels will exceed those at the end of the 2008 by the middle of next season.
The boss of the Malaysian Grand Prix, Razlan Razali, said at the Motor Sport Business Forum in Monaco earlier this week that circuits would welcome moves by the FIA to improve overtaking.
"If the FIA can come up with something to improve overtaking of the cars without us improving the circuits, then that is great," said the Sepang circuit's CEO. "The spectators, they don't really look at the technical aspects of the car, they want exciting races and overtaking - so if the FIA can come up with something to help that, it's good. But we always have a back-up plan, which is mother nature."
The fans enjoyment of the sport was highlighted in Mercedes GP CEO Nick Fry's pledge at the Motor Sport Business Formum that Formula 1 will do more to embrace its fans through new media, including the internet, in 2010.
"I think the accusation that we have been a bit slow on new media is correct - that we could have done a lot more," Fry said. "But I think you might find that FOM have things they are working on at the moment that will hopefully see the light of day during the course of next year which will hopefully at least partially address that."
Circuit bosses also conceded that they need to make their events more fan-friendly if they are to survive in the current financial climate.
The FIA has also created working groups to make proposals on environmental issues within FIA championships and the development of global rallying, while two sub-committees have been formed for tyre manufacturers and fuel suppliers.