Ratel: World GT1 will be huge success
| | |
| --- | --- |
| By Jonathan Noble and Matt Beer | Thursday, December 10th 2009, 13:45 GMT |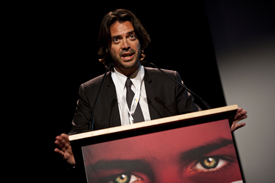 Organiser Stephane Ratel is bullish about the new GT1 World Championship's prospects and confident it can become one of motorsport's premier series.
The global championship exclusively for GT1 machinery will supersede the existing FIA GT series next year, although a European-based GT2 category will also continue.
There had been doubts over whether the ambitious project could succeed in the current economic climate, but Ratel says he has now fulfilled all the criteria set out by the FIA and thinks World GT1 will prove to be a massive hit.
"What we had to do was bring six brands together - we have these six brands," said Ratel during a presentation at the Motor Sport Business Forum in Monaco.
"We had to bring 10 events on three continents - we have 10 events on four continents. We had to bring teams, and we will announce 12 teams.
"We have our product and we will sell this product to television. We have a lot of interest in such a championship. Once we have the TV we will announce a partnership with a very good and well-known marketing company. I'm very, very confident that this is going to be the next big thing."
Nissan, Ford and Lamborghini have approved cars built to the new GT1 rules, while the current Maseratis, Corvettes and Aston Martins can be modified to race in the new world championship. Under series rules, manufacturers licence their 'brand' to be run by private teams rather than entering factory squads, with a pair of two-car teams representing each brand.
"I always kept telling [the FIA] that I don't need manufacturers because I don't want manufacturers - what I want is brands," Ratel said.
"We believe that we have the most aspirational cars, the best looking, the best sounding cars, and maybe the most prestigious brands on the market.
"We have six brands and that's really what we're aiming at. We will prove we can do it without direct involvement from the manufacturer.
"If we have ten brands registered for 2012, we will then go to two cars per brand only. The day we have 11 brands with 22 cars is going to look very, very good and is going to rock the motorsport world."
Le Mans organiser the Automobile Club de l'Ouest has agreed to adopt the new GT1 rules for the 24 Hours and associated series, which Ratel regards as a key boost to his concept.
""That is very important for us, because if we want these brands to develop cars, they need more than one place where they can sell them," he said.
The current provisional 2010 GT1 calendar starts in Abu Dhabi in April and includes events in South Africa, Canada, China and Brazil in addition to seven European races.
"We're going to be very ambitious," said Ratel. "We start the championship with ten events on four continents, or if Australia is confirmed we will have 11 races on all five continents, which is quite a performance for a first year.
"For us it's just the beginning, because with our concept we think we will have more to come. The objective for 2012 is to keep only three or four races in Europe and have all the rest outside Europe."