Circuits plan to offer more for fans
| | |
| --- | --- |
| By Jonathan Noble | Wednesday, December 9th 2009, 17:58 GMT |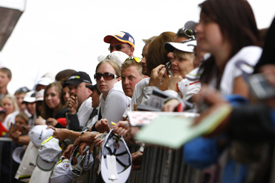 Leading Formula 1 circuit chiefs have admitted that they need to make their events and venues more fan-friendly if they are going to survive in the increasingly tough business world.
In a debate at the Motor Sport Business Forum in Monaco, representatives from the Nurburgring, Sepang, Abu Dhabi and Silverstone all agreed that F1 venues could no longer expect to exist solely on holding motor races.
Walter Kafitz, the former CEO of the Nurburgring who is the official circuit's representative on the F1 Commission, said: "I think circuits are part of the entertainment business and not only part of a sports business.
"We do not really compete among each other but we do compete with other entertainment events. People can go there or go somewhere else. We want to attract them to the circuits and therefore we have to remember that unlike for example in football, people stay at circuits at least for one day and hopefully the whole weekend.
"They have to be better entertained, not just by one major race, but by support races, by other entertainment offers, and to make them happy so that when they leave the circuit they would like to come back. That is our business."
Razlan Razali, the CEO of Sepang, said: "Spectators are very important for us, especially when the main source of revenue is ticket sales. So how do we get them to come to our track to watch the main races, like F1 and MotoGP? We have to do more for them in providing them offerings that are more than racing.
"We have offered more interactive activities with F1 drivers and MotoGP riders, but now we have to work out how to get the girlfriends and females there - how do we get them to watch the race? We have to think of children's activities, music concerts for the masses, for them to enjoy more than just racing.
"It is about a full range of entertainment we can offer them over a weekend. Circuits have to change their traditional mindset by introducing entertainment elements."
The Yas Marina Circuit's CEO Richard Cregan agreed that tracks now had to think beyond the simple confines of hosting an F1 race if they were to move forward.
"We are probably in a good situation that we are part of a bigger picture, part of a communication tool showing what Abu Dhabi is and what it is going to be in years to come.
"We have a great opportunity to be able to sit down now and create a business model that puts events together that will get customer intention. It is about families, the individuals coming back and having an experience. It is not just a matter of paying a lot of money and coming to an event. It has to include concerts, and entertainment in the city itself.
"We are very lucky in that we are working together with great organisations in Abu Dhabi, who are helping us to create that. But I don't believe you have customer loyalty unless you go beyond the event."
John Rhodes, senior associate of the Populous architect company that is revamping Silverstone, said the Northamptonshire track was now doing everything it could to help improve the spectator experience.
"I am an architect, although we have guys from the motorsport business in our team, but the essence of what we do is driven by the creative process," he explained.
"We bring fresh eyes to the circuit, and when we talk about spectators, it needs to be about the spectators. With that, we need to create opportunities - opportunities for overtaking, opportunities for spectators."