Lopez admits interest in Renault
| | |
| --- | --- |
| By Jonathan Noble | Wednesday, December 9th 2009, 09:32 GMT |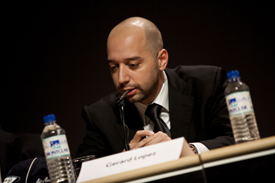 Gerard Lopez has confirmed for the first time that he is interested in purchasing the Renault Formula 1 team.
AUTOSPORT revealed last week that Lopez was one of the main parties interested in getting involved in a takeover of the French car manufacturer's F1 outfit - with Prodrive also seeking a deal.
And although Lopez has so far stayed out of the spotlight on the matter, he spoke about it for the first time at the Motor Sport Business Forum in Monaco on Wednesday.
"We see the whole environment as providing an opportunity," he said. "We've been involved in Formula 1 for some time as friends for some people, but never thought about getting more heavily involved than that.
"The situation is such right now that it provides an opportunity for new teams and new investors - it's not a time of uncertainty but a time of change.
"Times of change usually provide an entry point. We believe there is a chance to enter the sport and build a platform that sort of has to reinvent itself. If we were to become part of F1 we could be part of that reinvention."
AUTOSPORT understands that if Lopez's bid is successful the team will continue to run under the 'Renault' moniker rather than have a new identity.
"If we were to do a deal, we would still be basing ourselves as a constructor's team," said Lopez. "That's a different kind of business from a start-up. For us, what would be important is to provide stability over time. The business opportunities in F1 lie very rarely in making money out of your team; they should lie in making money out of the business platform that you have.
"Put any seasoned executive into F1 and they turn into a big kid, essentially. It makes them much more approachable. So for us, F1 is an excellent business-to-business platform."