Courtney wins season finale
| | |
| --- | --- |
| By David Wright | Sunday, December 6th 2009, 08:49 GMT |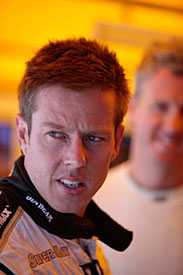 Jim Beam Racing's James Courtney made up for his late disappointment in race one with victory in race two of the Telstra 500 at Homebush.
Courtney led virtually the whole race but did not have it easy in the first half of the race as other drivers challenged him. Ultimately all his main rivals fell by the wayside, and Courtney took the win a handful of seconds ahead of Garry Rogers Motorsport's Michael Caruso.
Third was Ford Performance Racing's Mark Winterbottom, a remarkable result after a spin on lap 20 dropped him from ninth to 18th. But four safety car periods during the race and dramas for several other drivers saw him climb back the order despite a brush with the wall late in the race which saw him lose a door skin.
Russell Ingall, Fabian Coulthard and Shane van Gisbergen finished fourth, fifth and sixth after starting 21st, 20th and 19th respectively, any cars still running well being good enough to get a position at the front of the field at the end of the race.
Greg Murphy finished seventh despite spinning at the restart on lap 33 and dropping from second position to 18th as well as damaging the rear section of the car. The two Davisons, Will and Alex were next in eighth and ninth, with Steven Johnson completing the top ten, the final car on the lead lap.
There were plenty of other drivers who looked set for good results before their day turned bad, as only 16 of the 29 cars that started the race were running at the finish, with a few of those 16 limping their way home.
After his troubles in qualifying, series champion Jamie Whincup torn through the field in the early running, and looked set for a possible top five finish.
But for the second day in a row he outbraked himself on cold tyres at Turn 1 after a pitstop. Unlike yesterday, he tried to make the corner and got stuck in the tyres, losing two laps and eventually finishing 14th, four laps down.
Todd Kelly was running fifth in the closing stages but a lack of electrical charge forced him to pit, retiring soon after. Jason Bright had an even bigger disappointment, passing Courtney for the lead just after half-distance before receiving a drivethrough penalty for an unsafe pit release, dropping from first to 13th.
His day got even worse a few laps later when he hit the wall near the end of the lap, retiring straight after. Just behind him was Craig Lowndes, who crashed at the same corner even harder, ending his day as well. A few laps earlier Lowndes had also received a drivethrough penalty for an unsafe release, which had dropped him from fourth to 15th.
Garth Tander's hopes of beating team-mate Will Davison for second in the championship disappeared when he and Michael Caruso made contact as Caruso passed him for fourth position, damaging his steering and leaving him unable to restart the car after it stalled. Until then Tander had looked on track to overhaul Davison as his rival struggled for the second day in a row.
Two other Holden drivers had their chances of a win disappear early on, Rick Kelly hitting the wall at Turn 8 while running second on lap ten, losing four places, before hitting it again three laps later, ending his race for good.
Garry Rogers Motorsport's Lee Holdsworth was on target to match or better his team-mate's result, pushing hard as the race headed towards one-third distance as he tried to leapfrog Courtney for the lead during the first round of pitstops.
But a mistake at the notorious Turn 8 saw him plough into the tyres, and his race as well as a chance of a win was gone.
Pos  Driver                Make                  Time
 1.  James Courtney        Ford Falcon FG        2:08:16.0105
 2.  Michael Caruso        Holden Commodore VE   +     3.9087
 3.  Mark Winterbottom     Ford Falcon FG        +    10.6865
 4.  Russell Ingall        Holden Commodore VE   +    13.2783
 5.  Fabian Coulthard      Ford Falcon FG        +    14.9597
 6.  Shane Van Gisbergen   Ford Falcon FG        +    20.7693
 7.  Greg Murphy           Holden Commodore VE   +    25.9038
 8.  Will Davison          Holden Commodore VE   +    32.8472
 9.  Alex Davison          Ford Falcon FG        +    42.8316
10.  Steven Johnson        Ford Falcon FG        +  1:13.1200
11.  David Reynolds        Holden Commodore VE   +     1 laps
12.  Michael Patrizi       Ford Falcon BF        +     1 laps
13.  Paul Dumbrell         Holden Commodore VE   +     2 laps
14.  Jamie Whincup         Ford Falcon FG        +     4 laps
15.  Steven Richards       Ford Falcon FG        +     7 laps
16.  Tim Slade             Holden Commodore VE   +    10 laps

Not classified/retirements:

     Driver                Make                  Laps
     Todd Kelly            Holden Commodore VE    57
     Tony D'Alberto        Holden Commodore VE    56
     Jason Bright          Ford Falcon FG         55
     Craig Lowndes         Ford Falcon FG         55
     Cameron McConville    Holden Commodore VE    54
     Mark McNally          Holden Commodore VE    47
     Jason Bargwanna       Holden Commodore VE    38
     Dean Fiore            Holden Commodore VE    37
     Garth Tander          Holden Commodore VE    28
     Jack Perkins          Holden Commodore VE    26
     Jason Richards        Holden Commodore VE    24
     Lee Holdsworth        Holden Commodore VE    21
     Rick Kelly            Holden Commodore VE    12