Q & A with Mirko Bortolotti
| | |
| --- | --- |
| | Thursday, December 3rd 2009, 15:55 GMT |
Conducted and provided by Toro Rosso's press office.
Mirko Bortolotti burst onto the scene last year in a prize Ferrari test at Fiorano for winning the Italian F3 championship. That earned him a place on Red Bull's junior scheme and, following an impressive season in Formula 2, he was called up to this week's Jerez test by Scuderia Toro Rosso.
He completed 69 laps during Wednesday's running and explained his thoughts on the day afterwards.
Q. What was the experience like to be back in an F1 car?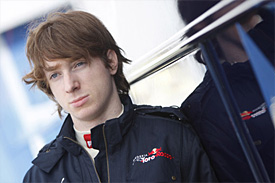 Mirko Bortolotti: "It's a great opportunity and experience for me after last year's test. The programme was quite different, we had some parts to test, but it's still a Formula One car and it's great. It's great to be here."
Q. What's the difference between a Formula 1 car and a Formula 2 car?
MB: "There are so many differences, you can't even imagine. It's completely different. You cannot compare a F1 car to any other car. It's a different world. Everything is different, you have more power, more brake power, more grip, so you have to change your driving style and try to drive the F1 car as best as possible, which is not the same way as you would drive another car."
Q. Is there pressure on you to perform better than at last year's test with Ferrari?
MB: "No, of course I always try to push myself to the limit. But the tests have been different, you focus on different things, like lap times or you try new parts, etc."
Q. Were you satisfied with your performance today?
MB: "Yes, considering what happened. Of course, I am not completely satisfied, because there was the potential to improve our performance."
Q. What's your goal for the next year, next two years? To move up to test driver?
MB: "Yes, that would be very nice. But of course that's a big point. For now I will just focus on next year, even though I don't know what I am going to do next year, but as soon as I know I will concentrate and prepare myself for that in the best way and try to be competitive in that series where I will race. My target is to win everywhere I am racing."
Q. What's the best option for you?
MB: "I don't know at the moment, there are so many categories. You always know this kind of thing after the season! The most important thing for me today was the chance to work in Formula One with the team. I enjoyed it a lot, because you have the chance to do a lap, come in the garage, change some things, go out again and see how the car changed. That is very important for young drivers and for me it's a great experience.
"I'm really trying to concentrate, because there is just so much to do and focus on in the car, the cockpit has so many switches and buttons, you have a lot of work to do in the car, which is probably the biggest differences to other racing cars."