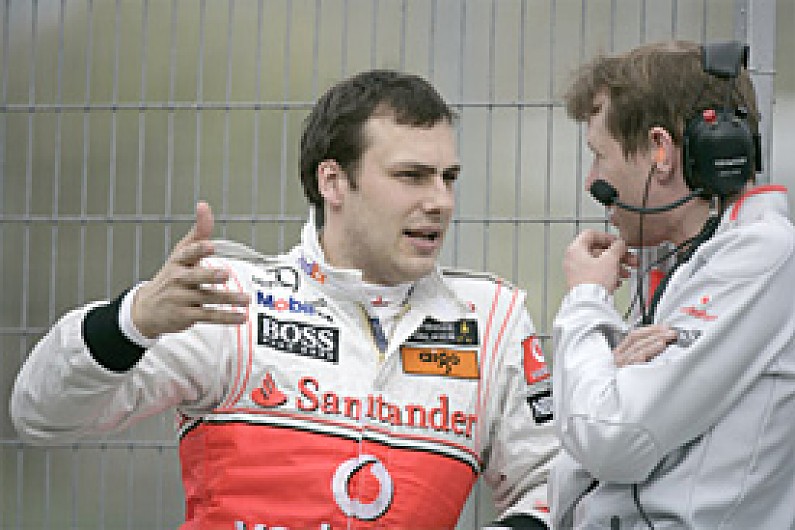 After setting the fastest time so far for McLaren on the second day of Formula 1 testing at Jerez, AUTSPORT.com columnist Gary Paffett sat down for an exclusive chat about how things have gone so far in Spain.
Q. Is it a case of 'job done' for you in this test?
Gary Paffett: Firstly it's great to be back in the car after a long time away from it. We got a lot of work done on Tuesday and the same on Wednesday. We actually did more than we thought we would because we were expecting more red flags during the sessions than we've had. We're really happy with the work we've done and certainly we've improved the car overnight and the lap times were pretty good today. Obviously people are doing preparations for next year with high fuel and so are we. It's been pretty good so far.
Q. How do you simulate the high fuel loads without the 2010 fuel tank with the increased capacity?
GP: There's new tyres for next year, but we haven't got them. And the fuel tanks aren't large enough to put it all in, so you try and simulate it as much as you can. Everybody's trying to get as close to it as possible so they can see what sort of degradation you get with the tyres, how the car balances and simulate all of that so we'll have a better idea of how it's going to work.
We simulate it by just putting more ballast in the car - the same amount of ballast as the amount of fuel we're trying to simulate. You get as close as possible. It's never going to be quite right because your wheelbase is also going to be different next year because of the size of the fuel tank, so it's not going to be perfect, but you can at least get an idea of tyre wear and now the car gets affected by having the extra weight.
Q. Have you proved a point to all these youngsters that experience counts in F1?
GP: Yes and no. It's good to see a lot of young guys having a go in the cars. It's something that recently we haven't seen much of. I haven't driven the car much myself for the last couple of years, so although I have more experience than them, it's not necessarily recent experience.
Tuesday was my first day in the car for a year. It's definitely good to be top of the timesheets. It proves we have a pretty strong car. We don't have KERS on the car like we did this time last year. The car's still strong without it, and just to be ahead of them is good.
Q. Why were you using the old front wing that gave the car problems at the start of the year?
GP: It's difficult during the season, when you don't have tests away from the circuits, to really evaluate all of your aero parts that you put on during the year. So on Tuesday morning we just had a look back at some of the aero parts that we've replaced during the season just to get some figures on them, like the front wing. It was comparison work really.
The problem is when you take a new part to the race, if it works, you run it, so you never have a chance to do a clear back-to-back evaluation. So we just had a few parts that we wanted to get some clearer results for. We did that on Tuesday morning, but since then we've run in pretty much the full spec we had towards the end of last year.
Q. How are your responsibilities split in this test between working on things with the car and helping Oliver Turvey acclimatise to the car and the team?
GP: All of the stuff we're doing is trying to improve the car for next year and proper testing. Oliver is here to have his first run in the car. From my side, that's pretty much it. The test is more designed towards getting some work done. Oliver had a run on Tuesday and will again on Thursday morning, and he's getting some good time in the car. The problem is with your first time in the car, it's difficult to just pound around like some of the others have. It's good for him to get his first taste of the car, but we're trying to get as much 'proper' testing done as we can.
Q. Are there any opportunities for you in F1 in terms of race seats for 2010?
GP: We have been looking, but even with all the new teams coming in, it's not easy to get a race seat. It seems like most of the new teams require you to have a fair few million pounds in the bank, or that much sponsorship to give the team, so it's more difficult to get a race seat even though there's more available. The teams are struggling budget-wise and it's not easy to lay your hands on a lot of money. We've been looking at opportunities, but there don't seem to be that many available. I'm focusing on what I've got at the moment.
I've had a great year in DTM with Mercedes and we're looking at probably doing that again - continuing with them and trying to get the championship back for them after three years without it. And also continuing my work with McLaren. I've been with them full-time since 2005 and I hope to build on that and hopefully become a more integral part of the team. It's been great working with them and with Lewis [Hamilton], and now with Jenson Button on board, it will be great working in a team with two world champions.
Q. Has your DTM team-mate Paul di Resta's pace in the Force India surprised you?
GP: I know he's a very good driver, so it's no surprise he's done a very good job. On Tuesday he was slightly quicker than me, which was a bit annoying, but I was quicker than him this time, which has made me a bit happier. Paul's a very good driver. We were both fighting very hard against each other in the DTM and he and I are clearly Mercedes' strongest drivers in that championship at the moment.
We've both come here and done a good job so far. I would say well done, and I've been speaking to him quite a lot during this test. From what I can see, he's done a very professional job so far.
New season.
New rules.
New cars.
New drivers.
Get ready for an F1 season like no other with unlimited access to the world's best motorsport journalism.
Get 10 free extra stories
Upgrade for free - and boost your monthly news limit instantly.
Register for free
Expert opinion.
Technical insight.
Unbeatable analysis.