Hirvonen: Raikkonen would need time
| | |
| --- | --- |
| By Matt Beer and Otto Palojarvi | Wednesday, November 25th 2009, 15:11 GMT |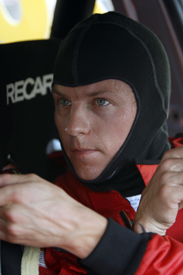 World Rally Championship runner-up Mikko Hirvonen doubts that Kimi Raikkonen would be an immediate success if he switched to the WRC next year.
Raikkonen is planning to take a sabbatical from Formula 1 for at least one season following the end of his negotiations with McLaren over a 2010 seat.
The Finn has long been interested in rallying and has hinted it would be his next step after F1. He contested this year's Rally Finland in a Super 2000 car and set an impressive pace before crashing.
But Raikkonen's compatriot Hirvonen thinks the regular WRC drivers' years of practice on the stages and with driving to pace notes gives them a huge advantage.
"Kimi is fast and with driving he doesn't have problems," Hirvonen told Finnish website Sportti.com. "But preparing to drive with pace notes is a difficult case for him.
"We WRC drivers have so much more experience, and almost all the rallies will be unknown to Kimi in advance. It's difficult to imagine that Kimi could succeed, at least in his first season."
Hirvonen's manager Timo Jouhki, who also brought Juha Kankkunen, Tommi Makinen, Toni Gardemeister and Jari-Matti Latvala to rallying's top level, agreed that Raikkonen would need time to get up to speed.
"Kimi is a really talented driver. No other F1 driver has been driving a rally at that level," said Jouhki. "Rallying, however, requires so much experience that I basically cannot see him having any chance in the first year. Rallying is such a difficult sport and experience counts."
Despite suspecting he might struggle initially, Hirvonen reckons the chances of Raikkonen appearing in next season's WRC are high.
"That man does not surprise me in anything," said Hirvonen. "I would not be surprised if Kimi took a year off, and did for example five World Championship rallies, or pushed for the whole season."
While Hirvonen's arch-rival Sebastien Loeb has tested Formula 1 and GP2 cars, and raced in the Le Mans 24 Hours, the Ford driver has no intention of trying circuit racing for himself.
"There is no track series interest with me," said Hirvonen. "The historic rallies series I would like to maybe drive or I could drive a long rally - for example, the London-Mexico. They would be interesting. Maybe I could do rallycross.
"But the track series, such as the DTM or WTCC, do not inspire me."