Highcroft to continue with Acura
| | |
| --- | --- |
| By Matt Beer | Monday, November 23rd 2009, 13:51 GMT |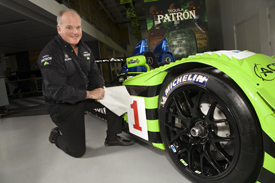 American Le Mans Series champion team Highcroft is to continue with Acura in next season's combined prototype class.
Duncan Dayton's squad, which won the 2009 LMP1 crown with David Brabham and Scott Sharp, will use a new development of the original LMP2 Acura ARX-01 rather than this year's LMP1 ARX-02a. The ALMS is amalgamating LMP1 and LMP2 for 2010 to encourage closer competition, and will balance the cars' performance accordingly.
Highcroft has been the frontrunner among the Acura teams since the Honda brand first came to the ALMS, and will be its official test and development team in 2010.
"We are delighted to continue our relationship with Honda Performance Development," Dayton said.
"We will have the #1 on our car for 2010 and firmly believe the ARX-01c will give us the best opportunity to defend that championship. We are very much looking forward to continuing our working relationship with the team at HPD - they have played an integral role in our championship success."
Brabham will remain with the team, but Sharp is moving across to his new GT2 Ferrari operation Extreme Speed Motorsports. Highcroft has yet to announce the identity of Brabham's new team-mate, and also hopes to expand to a second car next year.
Dayton is confident that the upgraded LMP2 Acura is the best choice for the ALMS' new era.
"We are awaiting full details from the ALMS, but we expect the LMP1 cars to be slowed and the LMP2 machines to be offered more performance freedoms," he said.
"Everyone saw the performance of the ARX-01b at this year's ALMS race at Laguna Seca [where the Fernandez LMP2 Acura battled with the LMP1s], and we think this car will be a very wise weapon of choice for 2010.
"The combined prototype class is going to provide some extremely fierce competition and our team is very much looking forward to the fight."