Vettel surprised by Button's switch
| | |
| --- | --- |
| By Diego Mejia | Sunday, November 22nd 2009, 08:56 GMT |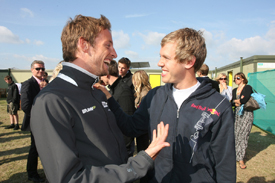 Sebastian Vettel was shocked by title rival Jenson Button's move to McLaren, and expects Mercedes GP to be a strong contender in 2010.
The German, who finished second in this year's world championship, said he was not expecting Button to leave the team with which he won both the drivers' and constructors' titles, especially given that it had just become a manufacturer outfit, with Mercedes taking controlling equity.
"I think it was a surprise to everyone," Vettel told AUTOSPORT. "Brawn GP, now Mercedes GP, was very very strong this year. They won the drivers' and constructors' championships. They had a very good car, a good team and it's always a surprise if a champion, in a champion team, is leaving.
"You don't know if things will change completely next year, but in that regard for Brawn GP it was a very positive thing to happen that Mercedes is now taking over and it's a manufacturer team.
"So it was a surprise and for next year they're going to be strong. McLaren always has been. This year they were struggling a little bit but I think looking back they've always been strong."
Vettel said it would be intriguing to watch how Button fares as the new boy coming in at McLaren, with Lewis Hamilton entering his fourth season with the team.
"I think it will be interesting," he said. "They're obviously both English and McLaren is an English team. Lewis knows the team very well, already for a couple of years now, Jenson is the new one coming in, so we will see."
The 22-year-old expects the usual top teams to be back in contention for the world championship in 2010, following a year of shake-ups in the established order due to the new tehcnical regulations. However he remains confident of Red Bull Racing getting even stronger after being Brawn GP's main rival this year.
"I'm very confident in how strong we are in Red Bull and we will get even stronger," said Vettel. "It will be a nice challenge next year, not only with McLaren, also with Mercedes GP, whose drivers we don't know yet, and also with Ferrari, same as McLaren.
"The rules change a little bit, no refuelling, a little bit different tyres but not that much. Not like from 2008 to 2009, so we'll see in the first test."