Brawn: Sale gives team stronger future
| | |
| --- | --- |
| By Matt Beer | Saturday, November 21st 2009, 11:47 GMT |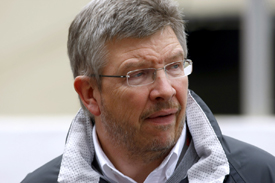 Ross Brawn says he had no qualms about selling his team to Mercedes after just one year, as he is confident the deal gives his staff a much brighter future.
Mercedes announced on Monday that it was taking over Brawn GP, which had been on the brink of closure at the end of 2008 following previous owner Honda's decision to pull out of Formula 1. The current management team will remain in place despite the sale.
In an interview with The Independent newspaper, Brawn explained that he had not wanted to continue as team owner indefinitely and felt manufacturer ownership offered the operation more security.
"At some stage as a team owner you have to pass it on," Brawn said. "I'm almost 55 and I'm not planning to do a Bernie [Ecclestone].
"It was tempting to try to repeat this year's success [under the Brawn name] but it would have been an awful risk. We were already working with their engine group and all the stars aligned. It was an opportunity to give the team a very strong future."
He said the team's incredible success in 2009 - when it dominated the first half of the year and took Jenson Button to the drivers' championship as well as claiming the constructors' title - meant he had no regrets about seeing the Brawn name disappear from the entry list so soon.
"As I said to the staff, it's sad to see the team only in existence for a year, but what a year!" Brawn said. "We've had a wonderful time, and in many ways it was a difficult decision, but now we've joined the most prestigious brand in the automotive world."
Brawn reiterated that team ownership had never been his intention, and that when Honda announced it was pulling out his initial expectation had been that the team would probably have to close.
"We had no notion that we might continue, but that was a subject we broached once we'd recovered from the initial shock," he said of his and colleague Nick Fry's immediate reaction. "Could we keep it going? It didn't look very sensible, but at the same time, we hadn't really understood the huge costs of closing a company."
He added that it would have been hugely disappointing for him to leave Formula 1 on the low of Honda's awful 2008 form.
"It's possible that our poor performance in 2008 confirmed to Honda that they shouldn't continue, which was frustrating, because I didn't want to finish my Formula 1 career at the end of 2008, the worst championship I'd had for 15 years," said Brawn. "And I knew we had a race-winning car for 2009."