Johnson claims Homestead pole
| | |
| --- | --- |
| By Diego Mejia | Friday, November 20th 2009, 22:41 GMT |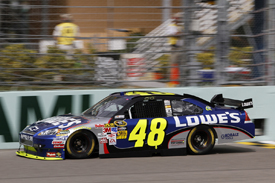 Jimmie Johnson will start from pole position for Sunday's NASCAR Sprint Cup Series season finale at Homestead Miami Speedway.
The reigning champion edged another step closer to his fourth consecutive title by beating Hendrick team-mate and title contender Mark Martin to the top spot on the grid for the deciding race.
Johnson made the most of his late qualifying draw and the improving track conditions to set a fastest lap of 31.049 seconds at an average speed of 173.919 mph, which was a massive 0.220s quicker than his closest rival.
"The track position, having that first pit stall - one thing that a lot of you might know is how difficult pitroad is here, when the sun is setting, finding your pit box and even seeing the parameters of your pit box," said Johnson. "There's a lot of reasons to qualify well and I'm very happy that we did."
Red Bull rookie Scott Speed matched his best career qualifying performance and will start from the outside of the front row of the grid, just as he did a year ago. Australian Marcos Ambrose had been second up until Speed knocked him off the front row, taking advantage of running last in the order.
"I want to say nothing so special about the lap," said Speed. "The sun going down, especially for us, it helped a lot. I think without that you would be looking at [Martin] and [Johnson] being on the front row and as it turned out I had a good [qualifying] draw and I went out dead last, in the best possible track conditions."
Martin's benchmark lap amazingly stood as the best for nearly the whole session, despite the veteran completing his run early in qualifying when the track was far from at its best, as temperatures on the asphalt were at their highest point when the session started. Martin ended up fourth on the grid for Sunday's 400-mile race.
Tony Stewart was fifth, while Kevin Harvick just missed hitting the wall during his qualifying effort, ending up sixth fastest. He was followed by fellow Chase contenders Ryan Newman and Greg Biffle, whie Bill Elliott was ninth and the best among those making the field on speed.
Several drivers had incidents during their qualifying efforts, including Reed Sorenson, Mike Skinner and David Stremme, all of whom ended up spinning while pushing the limits. Matt Crafton also hit trouble when his engine blew up at the end of his second lap.
Skinner and Stremme both failed to qualify, as did Max Papis, Dave Blaney and Joe Nemechek.
Pos  Driver              Car        Speed    Time     Gap
 1.  Jimmie Johnson      Chevrolet  173.919  31.049s
 2.  Scott Speed         Toyota     172.695  31.269s  + 0.220s
 3.  Marcos Ambrose      Toyota     172.678  31.272s  + 0.223s
 4.  Mark Martin         Chevrolet  172.353  31.331s  + 0.282s
 5.  Tony Stewart        Chevrolet  172.243  31.351s  + 0.302s
 6.  Kevin Harvick       Chevrolet  172.145  31.369s  + 0.320s
 7.  Ryan Newman         Chevrolet  172.035  31.389s  + 0.340s
 8.  Greg Biffle         Ford       172.024  31.391s  + 0.342s
 9.  Bill Elliott        Ford       171.860  31.421s  + 0.372s
10.  Clint Bowyer        Chevrolet  171.838  31.425s  + 0.376s
11.  Jamie McMurray      Ford       171.838  31.425s  + 0.376s
12.  Kurt Busch          Dodge      171.794  31.433s  + 0.384s
13.  AJ Allmendinger     Ford       171.750  31.441s  + 0.392s
14.  Martin Truex Jr     Chevrolet  171.646  31.460s  + 0.411s
15.  Casey Mears         Chevrolet  171.630  31.463s  + 0.414s
16.  Regan Smith         Chevrolet  171.576  31.473s  + 0.424s
17.  David Gilliland     Toyota     171.461  31.494s  + 0.445s
18.  Michael McDowell    Toyota     171.434  31.499s  + 0.45 s
19.  Bobby Labonte       Chevrolet  171.396  31.506s  + 0.457s
20.  Jeff Gordon         Chevrolet  171.336  31.517s  + 0.468s
21.  Elliott Sadler      Dodge      171.331  31.518s  + 0.469s
22.  David Reutimann     Toyota     171.276  31.528s  + 0.479s
23.  Juan Pablo Montoya  Chevrolet  171.162  31.549s  + 0.500s
24.  Carl Edwards        Ford       170.994  31.580s  + 0.531s
25.  Kasey Kahne         Dodge      170.967  31.585s  + 0.536s
26.  Jeff Burton         Chevrolet  170.967  31.585s  + 0.536s
27.  Brad Keselowski     Dodge      170.816  31.613s  + 0.564s
28.  Travis Kvapil       Chevrolet  170.805  31.615s  + 0.566s
29.  Sam Hornish Jr      Dodge      170.794  31.617s  + 0.568s
30.  Kyle Busch          Toyota     170.648  31.644s  + 0.595s
31.  Erik Darnell        Ford       170.530  31.666s  + 0.617s
32.  Dale Earnhardt Jr   Chevrolet  170.454  31.680s  + 0.631s
33.  Brian Vickers       Toyota     170.411  31.688s  + 0.639s
34.  Matt Kenseth        Ford       170.379  31.694s  + 0.645s
35.  Joey Logano         Toyota     170.272  31.714s  + 0.665s
36.  Paul Menard         Ford       170.266  31.715s  + 0.666s
37.  Matt Crafton        Toyota     169.881  31.787s  + 0.738s
38.  Denny Hamlin        Toyota     169.715  31.818s  + 0.769s
39.  Michael Waltrip     Toyota     169.353  31.886s  + 0.837s
40.  John Andretti       Chevrolet  169.274  31.901s  + 0.852s
41.  David Ragan         Ford       169.072  31.939s  + 0.890s
42.  Reed Sorenson       Dodge      169.003  31.952s  + 0.903s
43.  Terry Labonte       Toyota

Did not qualify:

     Joe Nemechek        Toyota     170.708  31.633s  + 0.584s
     Dave Blaney         Toyota     168.940  31.964s  + 0.915s
     Mike Skinner        Chevrolet  168.660  32.017s  + 0.968s
     Max Papis           Toyota     168.529  32.042s  + 0.993s
     David Stremme       Chevrolet