Johnson extends Hendrick deal
| | |
| --- | --- |
| By Diego Mejia | Friday, November 20th 2009, 19:43 GMT |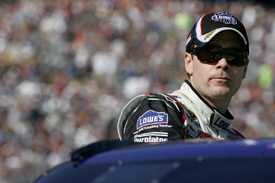 Jimmie Johnson has signed an extension of his current contract with Hendrick Motorsports and will race for the team until at least 2015.
The reigning champion will continue his association with the team that gave him the chance to debut in the NASCAR Sprint Cup Series in 2001. They would become one of the most successful organisations ever seen in NASCAR, winning three out of seven championships contested, with a fourth one beckoning this weekend.
"I'm real excited to announce today that we've signed an extension with Jimmie Johnson through the 2015 season," said Rick Hendrick. "We just signed a new deal with [main sponsor] Lowe's through 2013. We're excited about it.
"The key to success I think is keeping people together. This has been a fantastic ride with Jimmie. He and I have said we'd like to retire together. Lowe's has been an unbelievable sponsor. We're just real excited about keeping the whole deal intact. We just wanted to let you know today that's all done."
Hendrick said he is still working on a deal to keep crew chief Chad Knaus alongside Johnson for the foreseeable future. Knaus has been instrumental to the team's success, working with Johnson since the Californian's first full season in 2002.
"Chad has a multi-year deal," said Hendrick. "Chad and I have talked about retiring together. So we're in the process of getting that all papered. But I think our goal, and everybody's on the same page, [is] keeping this thing together for the foreseeable future."
Johnson welcomed his new deal, which comes right before a crucial weekend for him, as he closes on an unprecedented fourth consecutive Sprint Cup Series title.
"[I'm] so fortunate to have my team, job, situation at Hendrick Motorsports," said Hendrick. "Lowe's has been nothing but amazing to Hendrick Motorsports, to myself. So very, very excited about the future.
"The only car I've driven in the Cup Series has been a Chevy. It's been a Hendrick Motorsports Chevrolet and a Lowe's Chevrolet. I'm very, very proud of that stuff. Certainly look forward to the future, what the years may bring."