Huff grabs pole as title rivals collide
| | |
| --- | --- |
| By Jonathan Noble | Friday, November 20th 2009, 10:02 GMT |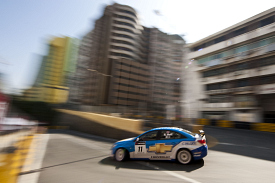 Chevrolet's Rob Huff came through a chaotic qualifying session for the World Touring Car finale in Macau to take pole position on an afternoon when the title hopes of SEAT duo Gabriele Tarquini and Yvan Muller were hit after they were involved a freak accident.

Tarquini and Muller both comfortably made it through to the Q2 shoot-out session, but they failed to set a laptime after they got caught up in a crash early on.

Muller appeared to lose control of his SEAT on cement dust that had been laid down at Faraway following a crash involving Stefano D'Aste and James Thompson in Q1. Moments later, and unsighted by the dust, Tarquini smashed into him - before the pair were then hit again by Alain Menu. Muller was taken away from the scene in an ambulance, but gave the thumbs up to indicate he was okay.

All three cars were badly damaged in the crash, although the teams have an extra day for repairs with the first of the two WTCC races not taking place until Sunday.

With the SEAT duo out of action, the way was left open for the other title contender Augusto Farfus to take pole position - but he could not quite manage it.

Farfus moved to the top of the timesheet with one minute of qualifying remaining, but Huff went even quicker on his final lap to secure pole position - shortly before Andy Priaulx snatched the second spot.

Huff was overjoyed by the result - especially because the numerous red flags and delays had made it hard for drivers to find their rhythm.

"I've never in my life experienced a qualifying session like this," he said. "The track was dark at the end and you couldn't see anything. It was incredible. I've never done a pole on my third lap before, so it is just fantastic for Chevrolet. I'm really pleased."

Jordi Gene will start behind Farfus in fourth, with Tiago Monteiro fifth and Jorg Muller sixth. Yvan Muller, Tarquini, Menu and Rickard Rydell will fill out the rest of the top ten.
Pos  Driver              Car        Q1         Q2
 1.  Rob Huff            Chevrolet  2m31.282s  2m32.141s
 2.  Andy Priaulx        BMW        2m31.734s  2m32.483s
 3.  Augusto Farfus      BMW        2m31.505s  2m33.033s
 4.  Jordi Gene          SEAT       2m31.171s  2m33.136s
 5.  Tiago Monteiro      SEAT       2m31.357s  2m33.322s
 6.  Jorg Muller         BMW        2m31.724s  2m34.091s
 7.  Yvan Muller         SEAT       2m31.241s  no time
 8.  Gabriele Tarquini   SEAT       2m31.150s  no time
 9.  Alain Menu          Chevrolet  2m31.842s  no time
10.  Rickard Rydell      SEAT       2m31.859s  no time
11.  Alex Zanardi        BMW        2m32.059s
12.  Nicola Larini       Chevrolet  2m32.181s
13.  Tom Coronel         SEAT       2m32.330s
14.  Felix Porteiro      BMW        2m33.581s
15.  Sergio Hernandez    BMW        2m33.812s
16.  Andre Couto         SEAT       2m34.047s
17.  Jaap van Lagen      Lada       2m34.214s
18.  Tom Boardman        SEAT       2m34.242s
19.  Franz Engstler      BMW        2m34.615s
20.  James Thompson      Lada       2m36.141s
21.  Nobuteru Taniguchi  BMW        2m36.431s
22.  Kristian Poulsen    BMW        2m36.473s
23.  Takayuki Aoki       BMW        2m37.895s
24.  Henry Ho            BMW        2m41.318s
25.  Jo Merszei          BMW        2m42.626s
26.  Kit Meng Lei        BMW        2m44.667s
27.  Liu Lic Ka          BMW        2m47.747s
28.  Stefano D'Aste      BMW        no time