Trulli enjoys first NASCAR test
| | |
| --- | --- |
| By Diego Mejia | Thursday, November 19th 2009, 04:54 GMT |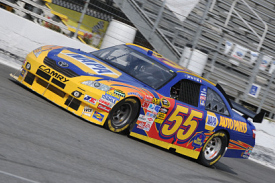 Jarno Trulli says he enjoyed his first Sprint Cup test at New Smyrna Speedway in Florida on Wednesday, and reiterated his interest in a possible future in NASCAR.
The Italian had a successful first outing in a Cup car - also his first on an oval - completing close to 400 laps around the half-mile circuit during the day, including some long runs in which he impressed the team with his speed and consistency.
Trulli ran in very hot conditions, with track temperatures reaching nearly 50 degrees Celsius. Despite that, he was able to set competitive times as early as his third run.
His performance compared well with the benchmark set earlier in the day by Michael Waltrip Racing's Nationwide driver Trevor Bayne, who was assisting both Trulli and ex-Formula 1 driver Mika Salo during the two-day test.
Despite being initially shocked by the marked differences between the Cup and F1 cars, Trulli enjoyed the learning experience at the short oval and admitted to be excited by the prospect of taking his NASCAR experience further ahead.
"It's very exciting," said Trulli "I guess this is not the kind of track where you want to race with 43 cars. It would be a bit difficult and tricky. I'm the kind of driver who prefers a more high-speed circuit, rolling the car through the high-speed corner, let the car roll, not stopping it too much like here.
"But at least I had the test here, so I know what the feeling is and I'm enjoying it, I'm really enjoying it. It would be nice to enjoy the race, because Juan Pablo [Montoya] told me the race is even better because you keep fighting every time."
The former Toyota driver said it would take some time for him to really master the technique of driving such a different car on an oval, but he believes the right coaching would eventually speed up his progress.
"I think it's very important to have a team that teaches you, in order to get everything better and better," said Trulli. "Like today, I had Trevor here and I had several people telling me and my steps were rapid, quicker and quicker.
"I think if you have someone teaching you, I think you can make it. Make it means challenging the top people, because winning is another story. It's really difficult."
Former McLaren chief engineer Steve Hallam is now MWR's executive vice president for competition and was in attendance at New Smyrna, as was Toyota Sprint Cup program manager Andy Graves. Hallam was impressed by both Trulli and Salo, and said the team had gained some valuable information from running both drivers during the test.
"Both Jarno and Mika have done really well," said Hallam. "They have both delivered competitive lap times. They bring a different perspective to our ears. We are able to hear about the cars in a different way.
"Also, Trevor [Bayne] being here is very useful because he is articulate and able to relate their experiences to reality. It has been a really positive test and has brought good value to us."
Team owner Michael Waltrip was equally impressed and said both Trulli and Salo "did an outstanding job and were turning some pretty quick times."
Sprint Cup title contender Mark Martin also visited the test on Tuesday, while Salo was running, and contributed with some advice for both drivers.