Fry: Money not issue in Button departure
| | |
| --- | --- |
| By Edd Straw | Wednesday, November 18th 2009, 21:20 GMT |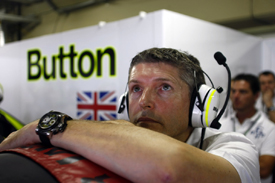 Brawn GP chief executive officer Nick Fry is adamant that Jenson Button's move to McLaren was not prompted by the financial terms offered by his team.
Fry believes that the deal Button has signed with McLaren could be worth less money than was on the table to remain with the rebranded Mercedes Grand Prix team next year. He insists that press reports of the amount offered to Button by the team are significantly short of the actual figure.
"I don't think that it was a financial issue," Fry told AUTOSPORT. "We understand that our offer to Jenson may well have been in excess of what he might be getting with McLaren.
"We are disappointed that Jenson has decided to leave because we did make what we thought was a very generous offer for a new contract which was significantly in excess of the frankly spurious figures that were put out to the press over the past week or so."
Fry added that the team was still keen to proceed with further contract negotiations over the past week, but that Button's management seemed uninterested in talks when approached in recent days.
"It was clear to us that things were going seriously astray as of Sunday night or Monday morning," said Fry.
"Unfortunately, over the last week there has been very little dialogue with Jenson's management team despite the fact that we have made overtures to have further discussions. But they didn't seem particularly keen, presumably because they were set on the McLaren route."
Many pundits, including three times world champion Jackie Stewart, expect Button to struggle against Lewis Hamilton at McLaren. Fry also suspects that will be the case and while he did not simply expect Button to stay with team through loyalty, he does not understand the logic behind the choice.
"I respect his decision," said Fry. "It's not one that I would have made and maybe he has been poorly advised.
"Clearly, loyalty would be nice but in this day and age you don't expect too much of that. I'm always happy when any employee leaves our company if I think that they've made the right decision and they are going to a better job and they always go with our blessing if that is the situation.
"In this situation, we don't understand the logic of the decision and I think Jenson is going to have to up his game if he's going to beat Lewis on home territory."
Despite losing Button to McLaren, Fry insists he does not regret delaying contract negotiations until the end of the season in the belief that it would have distracted both team and driver from their main aim of winning the drivers' and constructors' championships.
"Unfortunately we were between a rock and a hard place on this," Fry told AUTOSPORT. "Ideally the discussions should have been completed before the end of the season, but because of the way that the championship was going in the latter part of the season, the last thing we wanted was to distract the driver with contract negotiations.
"That was the right decision because there was enough going on on the racing side to fully occupy us and him without having the burden of contract discussions on top of that."