Britain's top 10 F1 driver pairings
| | |
| --- | --- |
| By Jamie O'Leary | Wednesday, November 18th 2009, 16:09 GMT |
Jenson Button's decision to join Lewis Hamilton at McLaren for the 2010 Formula 1 World Championship sets up the strongest all-British driver pairing for many a year.
AUTOSPORT looks back on some of the strongest British duos that have taken to the F1 tracks of the world together since the World Championship began back in 1950.
1. Jim Clark and Graham Hill
(Lotus, 1967-'68)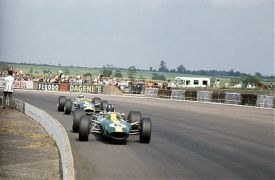 This was the last time two British world champions were paired together. It was a fearsome combination that was often let down by the unreliability of their Lotus 49s. In their 12 races together, Clark won five times to Hill's none, but the latter was a deserved champion in '68 after pulling the team together following Clark's tragic death at Hockenheim in a Formula 2 race in April.
2. Stirling Moss and Tony Brooks
(Vanwall, 1957-'58)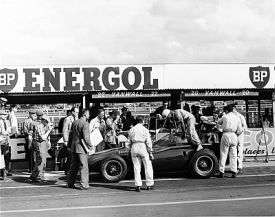 Statistically Moss and Brooks are Britain's all-time most successful pairing, having won nine of their 14 world championship races together and helping Vanwall to land the inaugural constructors' world title in 1958. They also hold the unique distinction of having shared the winning (British) car in the '57 British Grand Prix at Aintree. A third car, for Stewart-Lewis Evans, netted two podiums in 13 starts over the period.
3. Jackie Stewart and Graham Hill
(BRM, 1965-'66)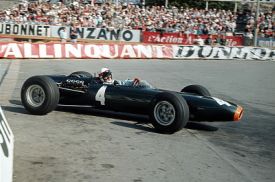 Stewart was a revelation in his maiden F1 season with BRM as he pushed former champion Hill all the way. Despite Jim Clark's dominance in '65, Hill and the Scottish rookie still managed second and third in the championship, with four wins including Stewart's first at Monza in '65 being amassed in their 19 races as team-mates.
4. Mike Hawthorn and Peter Collins
(Ferrari, 1957-'58)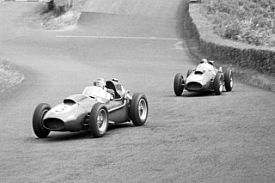 The 'Mon-Ami Mate' gang were together at Ferrari for 13 races, winning two of them and notching up 10 podium finishes. Incredibly close friends, Hawthorn was devastated by the death of Collins, aged just 28, at the Nurburgring in '58. He retired from racing three races later after winning the world title in Morocco. His own death in a road accident three months later left a gaping hole in Enzo's army.
5. Damon Hill and David Coulthard
(Williams, 1994-'95)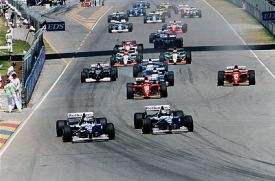 Shoved into the limelight following Ayrton Senna's tragic death at Imola, former test driver Coulthard began to pressurise Hill mid-way through '94 and took five pole positions the following year. Hill though, was the more consistent racer, narrowly missing out on the '94 title and winning 10 races to Coulthard's one during their 25 outings together.
6. Damon Hill and Nigel Mansell
(Williams, 1994)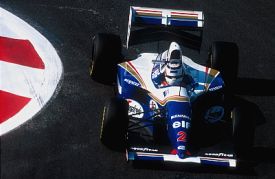 This was it. The former world champion and Britain's new F1 star together at the team that made both household names. A one-off at the French GP was initially just that, but it caused Mansell to yearn for another go, which came with a three-race stint at the end of the year. 'Our Nige' took a famous win - his last in F1 - in Australia, but pace-wise Hill had a definite edge.
7. Jim Clark and Innes Ireland
(Lotus, 1960-'61)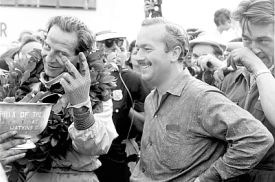 A line-up that promised more than it delivered, in that young Scotsman Clark was on his way to superstardom, but hadn't quite reached it by the end of his second season. Ireland, a dogged fighter who had come into F1 in '59, saved his best 'till last, giving Team Lotus its maiden grand prix win in the season-ending US race in '61. He and Clark started 14 races during their time together.
8. Johnny Herbert and Eddie Irvine
(Jaguar, 2000)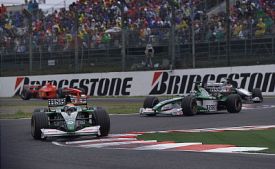 Jaguar promised to deliver the rebirth of British Racing Green on a world stage, to give Britain its own version of Ferrari. In reality, it was a disaster. Irvine and Herbert, who could claim five grand prix wins the previous season alone, were given a terrible car and a badly-organised team. That Irvine was able to challenge for a podium in Monaco (albeit in no other of their 16 races together) was a miracle.
9. Martin Brundle and Mark Blundell
(Brabham, 1991 and Ligier, 1993)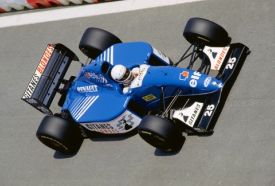 Had the two MBs combined for 25 races for these two teams 15 years earlier, they would certainly have been race-winners. That Brundle and Blundell signed for a fading Brabham organisation signalled just a solitary points finish each. Reunited at a more competitive Ligier outfit two years later, their combined efforts netted three podiums and fifth in the constructors' standings.
10. Jenson Button and Anthony Davidson
(BAR, 2005)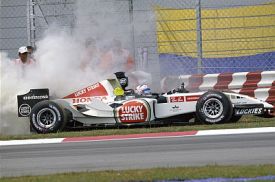 The last time two Brits were paired together. With regular driver Takuma Sato struck down by a fever after Friday practice in Malaysia, tester Davidson was drafted into a race seat alongside Button for a one-off drive. A catastrophic second lap resulted in both cars retiring with engine failures. It would be Davidson's only race start for the team and he would not compete again in F1 for two years.