Gould suffers blown engine
| | |
| --- | --- |
| By David Evans | Monday, November 16th 2009, 18:06 GMT |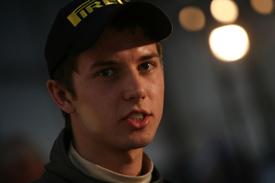 Peugeot's preparations for this week's Rally of Scotland suffered a further blow on Monday, when the engine on Adam Gould's 207 S2000 blew halfway through the test.
The Kronos Racing team was pressed into action this morning to replace a broken steering arm on Kris Meeke's Peugeot UK car and Gould's running in the prize-drive BFGoodrich sister car was halted just after lunch with engine failure.
Gould said: "The team suspect it was a valve or something like that. It was really unfortunate, a real shame. I did about 30 or 35 miles or something like that.
"The car was running really well and everything seeming to be working perfectly. There was no warning or anything like that, it just went. Nothing like this has happened before."
Gould remained pragmatic about the situation, adding: "This is what a test is about, really. While it's not ideal, it's better that it happens on the pre-event test rather than on the event itself.
Now I just can't wait to get to the start line. The car is absolutely fantastic - just amazing! The noise is sensational, I could hardly hear my co-driver for the first couple of runs because it was so loud. It's completely different to the Group N car I've been driving this season."
Rally of Scotland starts from Perth on Thursday evening and finishes in Stirling on Saturday afternoon.