Trulli open to NASCAR future
| | |
| --- | --- |
| By Diego Mejia | Sunday, November 15th 2009, 02:49 GMT |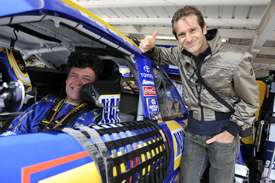 Jarno Trulli says that although he still has opportunities to remain in Formula 1 next year, he wants to leave the door open to a possible future NASCAR switch.
The Italian has spent the weekend with Michael Waltrip Racing at Phoenix, watching events from the Sprint Cup garages and listening to the team's radio communications during the practice sessions, as he prepares for his first NASCAR outing and his first run on an oval in a test next week.
Speaking to AUTOSPORT at the Arizona track, Trulli once again stressed that despite the NASCAR test coming at a time when his future is not yet set, his priority is still to remain in F1, where he is rated as favourite to land a seat with the new Lotus team.
However he wants to leave the doors open in NASCAR, even if a switch does not happen next year.
"Obviously looking at today's situation it's pretty clear that I can race in Formula 1 next year, but doing this test might keep many doors open," said Trulli. "So I'm fully open on any kind of stuff, even though my priority is to stay in Formula 1."
Trulli has also spent some time during the weekend talking to former F1 colleague Juan Pablo Montoya. He said that he has followed the Colombian's progress since his move to NASCAR in 2006, and having being to a few races already, he has a clear understanding of how big and professional the sport is.
"The fact that Juan Pablo has stepped in a few years ago has attracted a lot of attention, to many people, and that's why I've been sat and looking at the series because I was trying to understand what really was the target for him, what pushed him to get in the series," said Trulli.
"But actually when you come here and see how many people come to watch these series, you understand, you realise there's so much interest around. So it's really a professional top series, especially for America."
A move to the US is not something Trulli rules out. The Italian has some business interests in Europe besides his racing, namely his vineyard Podere Castorani near his native Pescara, but he says that would not play a big part in any decision over a NASCAR future.
"Absolutely not," said Trulli. "I have no business in Europe apart from the vineyard that my father runs. Racing is racing. We travel a lot around the world, I like living in the US, I have already an apartment in Miami, so that's never been a problem to think about my career.
"It's just a question that I don't know if I want to do it. That's why I'm extremely interested in testing this car, to get an idea of what [it] is [like] driving these cars."
The 35-year-old said he was not very fond of the current climate in F1, given the recent pull-out announcements from manufacturers, and believes work still needs to be done to improve the health of the world championship.
"It doesn't seem too healthy at the moment," he said. "It's just my opinion, but I don't want to make any further comment. I think there's some work to do."
Speaking about Toyota's exit from F1, Trulli lamented having not won a race for the team in their 90 grands prix together. The Italian scored seven podiums while driving for the Japanese manufacturer, finishing second twice, the last time being at this year's Japanese Grand Prix, which will stand as Toyota's last appearance on an F1 podium.
"I think we were very close many times, especially this year," said Trulli. "We never had enough luck or we always missed a little bit. It's a shame that it has ended up like this.
"It's a shame for the people over there. We had quite a good group, a good team and actually also a great car but probably the car was never strong enough to win a race. I tried and tried many times but we failed."
Trulli will test a Sprint Cup Series Toyota Camry for Michael Waltrip Racing next Wednesday, while fellow former Toyota F1 driver Mika Salo, who is also with the team this weekend at Phoenix, is set to drive on Tuesday.