Campos thrilled with Dallara's progress
| | |
| --- | --- |
| By Matt Beer | Saturday, November 14th 2009, 11:01 GMT |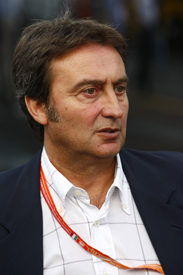 The Campos team is confident that it is well on course to be ready for its first Formula 1 season after driver Bruno Senna had a seat fitting at the Dallara factory.
Senna is the first driver to be signed by Adrian Campos's team, which the Spaniard is running in collaboration with the Meta organisation. Italian constructor Dallara is providing cars for the project.
"With each visit to Dallara, the advances in the car are more evident and we are starting to see it in its final size after having observed the development on scale during the wind tunnel working stage," said Campos.
Toni Cuquerella, the Campos engineer overseeing Dallara's work, added that the team had been able to get a head-start on its preparations for the 2010 races.
"The project is really advanced and we have already passed all the internal tests of homologation," he said. "Dallara has been working extraordinarily hard for months and we are really happy with the results up to now.
"Thanks to the current advanced development of the car and the data provided by Dallara, we have been able to carry out the first simulations in almost all the circuits that will organise a Formula 1 grand prix in 2010."
Senna was also delighted with current progress - and particularly the significant moment of his seat fitting.
"Being able to sit inside the car, do a seat fit and allow Dallara to make a tailor made, moulded seat, taking into account my exact height and proportions, constitutes another step forward in order to be present in the F1 group test sessions in February," said the Brazilian.
"I have raced in cars made by Dallara before and I trust completely in their way of working as well as their experience and quality.
"We are a new team and we are going to struggle at the beginning for sure, but if we keep on working in this direction, we will be able to make a good debut in our first season."