Martin realistic about title chances
| | |
| --- | --- |
| By Diego Mejia | Saturday, November 14th 2009, 06:22 GMT |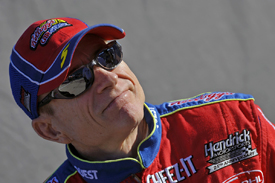 Mark Martin believes only a major issue for points leader Jimmie Johnson in the final two races of the season would allow him to have a real shot at the NASCAR Sprint Cup Series title.
The 50-year-old profited from Johnson's incident last weekend at Texas and he now trails him by 73 points, while a week ago he faced a massive 184-point deficit, after crashing on the penultimate lap at Talladega.
In order to clinch the title at Homestead regardless of Martin's results, Johnson needs to average a fourth place finish in the final two races, a number that the reigning champion might be able to match, given his 3.4 finishing average in the first seven races of the Chase.
"There won't be any major shift in our points unless things go wrong," said Martin. "We turned upside down at Talladega. Had I managed not to be involved in that wreck then the race would be on and it would be basically down to who scored the most points in the last two races, right down to performance.
"But this is the same as it's always been. There is a lot more than just flat-out performance week in and week out to it."
While points leader Johnson hopes to avoid a repeat of his Texas incident in the final two races, Martin believes it could well happen as it did to him when he was involved in accidents in both Talladega races.
However he still refuses to focus on the title race, and prefers to put all his effort into trying to win the two races remaining this year.
"I don't expect lightning to strike twice, but for me it did, so..." Martin said. "Sometimes the unexpected happens. But I don't expect it either. I'm still optimistic, even when it comes to their efforts as well.
"The thing you have to remember is my focus is on the race at Phoenix, it's not on the point accumulation. The point accumulation will take care of itself if I focus on the race and do our very best."