Truex takes Phoenix Cup pole
| | |
| --- | --- |
| By Diego Mejia | Saturday, November 14th 2009, 06:18 GMT |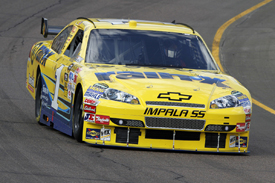 Martin Truex Jr claimed his third pole position of the season in qualifying for Sunday's NASCAR Sprint Cup Series race at Phoenix International Raceway.
Truex set a time of 26.643 seconds at an average speed of 135.120 mph on his first timed lap, beating the previous benchmark set by reigning champion Jimmie Johnson. Texas winner Kurt Busch came closest to Truex's time, but he was still more than a tenth of a second off the Earnhardt Ganassi driver.
While most set their best times on their second lap, Truex got pole with his first one, something he struggled to explain, despite it happening to him in the past at the one-mile oval.
"We were 20th in practice but it was only like a tenth and a half from first to where we were, so it doesn't take a whole lot," said Truex. "But we just made the right adjustments and the lap felt great.
"We've qualified second here twice and it was the same way both of these times. Our first lap was quicker and I'm not sure why that is with us. It must be air pressure or something."
The #1 car of Truex carries the famous Starbucks logo on the rear panel this weekend, marking the company's debut as a sponsor in NASCAR, which made Truex's pole position all the more valuable for his team.
Busch will line up on the outside of the front row on Sunday, while Johnson ended up third ahead of Kasey Kahne, who had been on provisional pole earlier in the session, recovering from a brush with the wall in practice.
Mark Martin, who claimed victory from pole position at Phoenix earlier this year, will see the green flag wave from 10th on the grid in the penultimate race of the year, while Jeff Gordon was only 14th fastest during the session.
Bobby Labonte was the fastest qualifier among those who needed to make the field on time, while Italian Max Papis was not far behind in 23rd, also making the field on speed. Regan Smith, Kevin Conway and Brandon Ash, failed to qualify for Sunday's race.
Pos  Driver              Car        Speed    Time     Gap
 1.  Martin Truex Jr     Chevrolet  135.120  26.643s
 2.  Kurt Busch          Dodge      134.579  26.750s  + 0.107s
 3.  Jimmie Johnson      Chevrolet  134.454  26.775s  + 0.132s
 4.  Kasey Kahne         Dodge      134.293  26.807s  + 0.164s
 5.  Denny Hamlin        Toyota     134.228  26.820s  + 0.177s
 6.  Greg Biffle         Ford       134.223  26.821s  + 0.178s
 7.  Kyle Busch          Toyota     134.173  26.831s  + 0.188s
 8.  Tony Stewart        Chevrolet  134.078  26.850s  + 0.207s
 9.  Casey Mears         Chevrolet  134.028  26.860s  + 0.217s
10.  Mark Martin         Chevrolet  134.023  26.861s  + 0.218s
11.  Michael Waltrip     Toyota     133.949  26.876s  + 0.233s
12.  Sam Hornish Jr      Dodge      133.924  26.881s  + 0.238s
13.  Clint Bowyer        Chevrolet  133.879  26.89 s  + 0.247s
14.  Jeff Gordon         Chevrolet  133.874  26.891s  + 0.248s
15.  David Reutimann     Toyota     133.864  26.893s  + 0.250s
16.  AJ Allmendinger     Ford       133.759  26.914s  + 0.271s
17.  Juan Pablo Montoya  Chevrolet  133.720  26.922s  + 0.279s
18.  Dale Earnhardt Jr   Chevrolet  133.700  26.926s  + 0.283s
19.  Brian Vickers       Toyota     133.680  26.930s  + 0.287s
20.  Bobby Labonte       Chevrolet  133.571  26.952s  + 0.309s
21.  Marcos Ambrose      Toyota     133.551  26.956s  + 0.313s
22.  Robby Gordon        Toyota     133.417  26.983s  + 0.340s
23.  Max Papis           Toyota     133.402  26.986s  + 0.343s
24.  Ryan Newman         Chevrolet  133.240  27.019s  + 0.376s
25.  Carl Edwards        Ford       133.215  27.024s  + 0.381s
26.  Brad Keselowski     Dodge      133.161  27.035s  + 0.392s
27.  Joey Logano         Toyota     133.151  27.037s  + 0.394s
28.  Matt Kenseth        Ford       133.121  27.043s  + 0.400s
29.  David Gilliland     Chevrolet  133.087  27.050s  + 0.407s
30.  Jamie McMurray      Ford       133.062  27.055s  + 0.412s
31.  Kevin Harvick       Chevrolet  132.930  27.082s  + 0.439s
32.  Dave Blaney         Toyota     132.925  27.083s  + 0.440s
33.  David Ragan         Ford       132.812  27.106s  + 0.463s
34.  Joe Nemechek        Toyota     132.783  27.112s  + 0.469s
35.  Elliott Sadler      Dodge      132.763  27.116s  + 0.473s
36.  Jeff Burton         Chevrolet  132.650  27.139s  + 0.496s
37.  Scott Speed         Toyota     132.333  27.204s  + 0.561s
38.  Michael McDowell    Toyota     132.275  27.216s  + 0.573s
39.  Erik Darnell        Ford       132.178  27.236s  + 0.593s
40.  Reed Sorenson       Dodge      131.829  27.308s  + 0.665s
41.  Paul Menard         Ford       131.377  27.402s  + 0.759s
42.  John Andretti       Chevrolet  130.757  27.532s  + 0.889s
43.  Tony Raines         Chevrolet  132.091  27.254s  + 0.611s

Did not qualify:

      Regan Smith         Chevrolet  132.062  27.260s  + 0.617
      Kevin Conway        Chevrolet  131.892  27.295s  + 0.652
      Brandon Ash         Dodge      130.662  27.552s  + 0.909