Johnson still haunted by Texas crash
| | |
| --- | --- |
| By Diego Mejia | Friday, November 13th 2009, 22:30 GMT |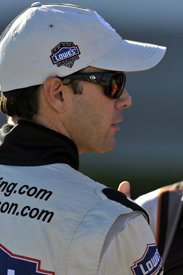 Jimmie Johnson admits he is still feeling haunted by his early accident at Texas last weekend, leaving him wary going into Sunday's race at Phoenix.
The reigning champion was involved in an incident on lap three of last week's race, which caused him to finish down in 38th place and lose a big portion of his massive lead in the standings, opening up the title race again with two races remaining.
Johnson is still disappointed by his misfortune last week, but is relying on past success at Phoenix to regain the lost momentum heading into the season finale.
"I don't really have an emotion for how last week went," Johnson said. "I mean, obviously it's a negative one. I'm disappointed to lose the points, but we didn't perform poorly. We didn't have a chance to perform good or bad. So I just kind of have this blank spot about how last week went. Unfortunately, we lost 111 points.
"We ran really good here in the spring, overcame a lot of issues to finish well. The fall race has always been good to us. So I'm finding a lot of positive thoughts, a lot of hope in what we have done here in the past at this track and the way the spring race went.
"So I can't wait to get on track so I can start thinking about something else. All I can think about is three laps of Texas right now. That's all I've thought about for the whole week. Ready to get that out of the brain."
The Hendrick driver remains wary about this weekend's race and hopes that lightning does not strike twice at a venue where side-by-side racing has been the norm in the past.
"I don't think anybody's really safe, especially [given] how you can run side-by-side here in [Turns] 1 and 2, one line is preferred, [in Turns] 3 and 4 another is preferred," said Johnson. "It's going to be tough to get single file.
"So I do have concern and worry about contact or something out of my control taking place again. I think we all fear that. But I find some confidence knowing that everybody's going to deal with that. I don't think lightning can strike two weeks in a row. I'm certainly hoping it doesn't."
Johnson heads into the penultimate race of the year with a 73-point cushion over his Hendrick Motorsports team-mate Mark Martin.