Bourdais takes pole for Sevilla
| | |
| --- | --- |
| By Charles Bradley | Saturday, November 7th 2009, 15:05 GMT |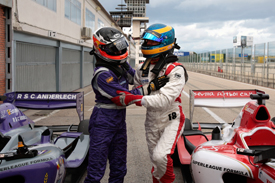 Sebastien Bourdais of Sevilla took pole position for the Superleague Formula season finale at Jarama in Spain, but only after a thrilling battle with Anderlecht's Yelmer Buurman in the head-to-head shoot-out, while title rivals Tottenham and Liverpool ended up in the midfield.
Bourdais, the ex-Toro Rosso Formula 1 racer, was 0.259 seconds up by the first split of the deciding qualifying final and looked to be set fair with a 0.432s advantage at the second split. Yet Buurman proved to be a master of the remaining sequence of corners, and trimmed that to just 0.006s by the chequered flag.
In the semis, multiple pole winner Antonio Pizzonia (Corinthians) was knocked out by Buurman, despite being over two tenths up at the first split. The Dutchman overturned the disadvantage, and beat his Brazilian rival by 0.236s. The second semi was much more straightforward, as Bourdais defeated Esteban Guerrieri (Olympiacos) by well over half a second.
The quarter finals delivered a shock straight away when practice pacesetter Max Wissel (FC Basel) was knocked out by Buurman. Wissel was 0.4s up by the second split, and seemed destined to win, but suffered a massive wobble on the exit of the Portago bend, and was beaten by just 0.044s.
An all-French driver quarter final two saw Bourdais beat Nelson Panciatici (Lyon) by almost a second. Guerrieri defeated Giorgio Pantano (AC Milan) by 0.873s, while Pizzonia had an easy passage to the semis when Ho-Pin Tung drove Galatasaray's car into the gravel at the first corner.
In the group sessions, Wissel set the fastest time in Group A, his 1m19.554s well clear of Guerrieri, Pizzonia and Panciatici. Just missing the cut for the knock-out stages was Roma's Julien Jousse, by just 0.061s. Also out were Kasper Andersen (Midtjylland), John Martin (Rangers), Tristan Gommendy (Porto) and Maria de Villota (Atletico Madrid).
Group B was even closer, with Bourdais setting the quickest time of 1m19.734s, just under two tenths clear of Tung, who was closely followed by Pantano and Buurman. Title chaser Craig Dolby (Tottenham Hotspur) was an agonising 0.026s away from qualifying for the knock-out phase, and had to settle for fifth, ahead of Pedro Petiz (Sporting Lisbon), points leader Adrian Valles (Liverpool), Enrique Bernoldi (Flamengo) and Carlo van Dam (PSV Eindhoven).
Valles appeared massively agitated after the session, with his anger directed at Buurman who briefly got in his way at the Le Mans hairpin. Valles went to the Anderlecht garage to remonstrate, but was quickly sent on his way by team members after a brief 'shoulder barge' incident.
Pos  Driver              Team                Time
 1.  Sebastien Bourdais  Sevilla FC          1m20.397s
 2.  Yelmer Buurman      Anderlecht          1m20.403s
 3.  Esteban Guerrieri   Olympiacos          1m21.141s
 4.  Antonio Pizzonia    Corinthians         1m20.720s
 5.  Ho-Pin Tung         Galatasaray         1m48.061s
 6.  Giorgio Pantano     AC Milan            1m21.259s
 7.  Nelson Panciatici   Olympique Lyonnais  1m21.262s
 8.  Max Wissel          FC Basel            1m20.433s
 9.  Julien Jousse       AS Roma             1m20.024s
10.  Craig Dolby         Tottenham Hotspur   1m20.009s
11.  Kasper Andersen     FC Midtylland       1m20.174s
12.  Pedro Petiz         Sporting            1m20.233s
13.  John Martin         Rangers             1m20.211s
14.  Adrian Valles       Liverpool           1m20.424s
15.  Tristan Gommendy    FC Porto            1m20.527s
16.  Enrique Bernoldi    Flamengo            1m20.497s
17.  Maria de Villota    Atletico Madrid     1m21.870s
18.  Carlo van Dam       PSV Eindhoven       1m20.909s