| | |
| --- | --- |
| Spies satisfied with top ten start | |
| | |
| --- | --- |
| By Michele Lostia and Matt Beer | Saturday, November 7th 2009, 14:54 GMT |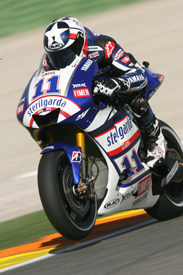 Ben Spies said ninth place on his grid for his first MotoGP start with Yamaha met his expectations as he acclimatises to his new bike.
The recently-crowned World Superbike champion has been drafted into the Yamaha line-up this weekend as a wild card to get some early mileage ahead of his season with Tech 3 Yamaha next year.
He was 15th in opening practice yesterday, improved to 11th this morning, and then broke into the top ten in qualifying - a result that left him quietly satisfied.
"We knew it was going to be tough to do anything special, with just three hours on the bike and then one race," Spies told Italia1.
"It was quite good. The only problem I think I'm having a little bit more than some of the riders is the wind, because now I'm learning the bike, the tyres and everything, so the wind makes it very difficult. But it's the same for everybody too. I struggled a little bit more and in the end I think we did okay.
"Top ten for qualifying is not bad, but every time we get on the bike I think we're getting closer, and that's the most important thing. We knew we weren't going to be competitive this weekend, but every time we try not to do anything silly and make too many mistakes and just slowly get better and better. It's coming slowly."
Spies reckons his bike is capable of running at the front, and that only his inexperience is holding him back.
"I'm just not riding to the capability of the bike, and I can feel that, but I knew that was probably gonna be the case," he said. "The bike is going to be much better than me in the first weekend, so I just had to trust the tyre and trust the bike, and it's hard coming from superbikes.
"I'm slowly every time just that little bit more and more [comfortable] with the tyres and learning to do a couple of things differently. But right now the bike's great, the tyres are better than the rider and so is the bike, so I just have to slowly keep making small improvements."
The 25-year-old American already has three MotoGP starts under his belt from wildcard and substitute appearances with Suzuki in 2008, including a top six finish at Indianapolis.