Martin not sad over blown title run
| | |
| --- | --- |
| By Diego Mejia | Friday, November 6th 2009, 21:59 GMT |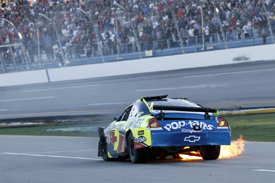 Mark Martin says he remains upbeat despite an accident at Talladega last weekend all but blowing his chances of winning a first NASCAR Sprint Cup series title.
Martin's car flipped over during the final crash of the day at Talladega and he was credited with a 28th-place finish, which despite not costing him second place in the standings, has placed him 184 points behind Jimmie Johnson in the title race - the furthest adrift he has been during the Chase.
The 50-year-old lamented more finishing his race in such wild fashion than actually losing ground to Johnson in the standing. He says that despite having a strong run in the Chase, his performance has not been driven by any title ambitions, while he admits that he has not been a match to the reigning champion.
"Definitely no heartbreak whatsoever," said Martin. "But Talladega did rub because I would rather get beat than turn over, you know what I mean? I want to go down racing and not like that.
"But you know what? We raced. We raced all day. We raced like we just couldn't be in a wreck. I was in one I didn't even see. I never even knew I was going to be in that wreck until I was turning over.
"So... what the hey? Obviously, the performance of the #48 [Johnson] has been phenomenal and we have given it a good fight, but we haven't quite matched their performance, although we gave him a pretty good run until Martinsville and Charlotte. That is all we can do.
"Certainly, I wasn't BS'ing you guys; I didn't take this job to go try and get a championship trophy. I took this job, you know why, and doggone, it has worked out pretty good. It still could happen, the race is still on for the top six positions. We are going to race."
Martin is currently only eight points ahead of Hendrick Motorsports team-mate Jeff Gordon in the standings and 55 ahead of Juan Pablo Montoya. If he manages to hold them off in the championship, he would finish runner up for the fifth time in his career.