Johnson to keep offensive approach
| | |
| --- | --- |
| By Diego Mejia | Friday, November 6th 2009, 19:39 GMT |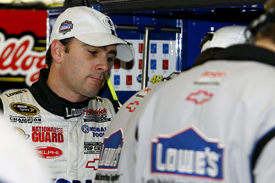 Jimmie Johnson plans to keep an offensive approach for the last three races of the NASCAR Sprint Cup season instead of trying to manage his massive gap in the points.
The reigning champion currently holds almost a one-race gap in the points standings to his Hendrick Motorsports team-mates Mark Martin and Jeff Gordon, and while he will not take any unnecessary risks on the track, he is targeting maximum points for the next two races. He says he will not think of a fourth consecutive title before the season finale.
"If we can go out and outrun the #24 [Gordon] and the #5 [Martin] the next two weeks, we'll let [a fourth title] into our minds then," said Johnson. "Right now I'm just trying to keep the blinders on and stay focused on maximum points. I'm certainly not going to do stupid things on track, take a lot of unneeded risk.
"But I've always been a believer of playing offence. Whenever we have played defence, we've done a miserable job. I'm going to keep playing offence, being aggressive, have the momentum going forward instead of trying to hang on wherever I'm at on track, whatever the points situation may be."
Johnson's current gap in the points makes for the likely scenario of him clinching the title before the final race of the season, something that has never been achieved before under the current Chase format.
"It would be really nice to do that," said Johnson. "I'm not mentally planning for that. I'm still trying to race this weekend and next weekend as if we're behind in points, you need maximum points, because you just never know. I know you guys get tired of hearing this, but anything can happen.
"I feel if we start focusing on an average position where we need to finish, do some things that are different than what the #48 car does, we will set ourselves up for a problem. So if things go right over the next two weeks, right now we're in a position where we would be clinched."
If Johnson leaves the following round of the Chase at Phoenix with more than 196 points over his closest rival, he would be crowned before the season finale. A 162-point gap would allow him to clinch just by starting at Homestead.