Gould gets Scotland BFGoodrich seat
| | |
| --- | --- |
| By David Evans | Friday, November 6th 2009, 12:37 GMT |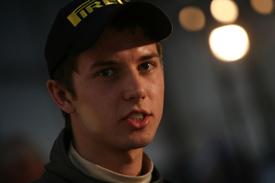 Adam Gould has been selected as the BFGoodrich Drivers' Team entry for the Rally of Scotland later this month.
The 21-year-old Bristolian will now drive the sister Peugeot 207 S2000 to recently crowned Intercontinental Rally Challenge champion Kris Meeke on the November 19-21 event.
BFGoodrich, Kronos and 12 motorsport journalists gathered at Motor Sports House in Colnbrook this morning to vote for the driver, out of a selection of five, most suited to competing on the Stirling-based event. The governing body of British motorsport, the Motor Sport Association also voted.
Gould, who was this year's British Pirelli Star Driver, faced competition from former Production Car World Rally champion Niall McShea, former Stobart Ford WRC driver Barry Clark, this year's Scottish Rally champion David Bogie and British Junior champion Martin McCormack.
Gould won with 10 votes, McCormack received three and McShea and Bogie received one each. The winner will get his first taste of the 207 on Monday November 16, when he will join Kronos for a day-long test in Scotland.
"This is absolutely fantastic news. Unbvelievable!" said Gould. "I've got to say a big thanks to everybody who voted for me and assure them that I will do my absolute best when I get to the event. It'll be a privilege to drive for Kronos and to represent the MSA and Kronos."
Kronos team principal Marc van Dalen was pleased to welcome Gould to his line-up and promised a car capable of victory.
"I am very happy with the decision made today," said van Dalen. "Adam has received the majority of the votes and when the case is like this, it's always the best - it's been a clear choice.
"Now we have to give him the best opportunity possible. Like I told him on the telephone, he is now the team-mate to Kris Meeke and I will give the same equipment and advice as I give to Kris. I will give him a car which is ready to fight to win."
Double British champion Guy Wilks was one of the original five drivers, but the Darlington man withdrew because of his commitment to a Skoda drive on the event.