Ecclestone sets deadline for Silverstone
| | |
| --- | --- |
| By Pablo Elizalde | Thursday, November 5th 2009, 11:00 GMT |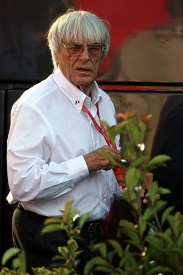 Formula 1 supremo Bernie Ecclestone has told Silverstone to sign the deal to host the British Grand Prix in the next 48 hours if the race is to stay on the 2010 calendar.
The Briton has been in talks with Silverstone since Donington, who had a contract to host the race next year, failed to raise the necessary money to carry out a redevelopment of the track.
The terms offered to Silverstone are believed to be similar to those that the track rejected 18 months ago as commercially unviable, something that has delayed the completion of a deal.
Ecclestone said, however, that there are no significant disagreements between the two parties, and warned Silverstone to sign the contract or risk not having a British Grand Prix next year.
"They say there is not much between us and them, so they should sign," Ecclestone was quoted as saying by the Daily Express newspaper.
"Maybe they have lost their pen, but if they don't find it in the next day or two then that is it.
"I will pull the race off the calendar and there will be no British Grand Prix to argue about."