Kobayashi feared for racing career
| | |
| --- | --- |
| By Jonathan Noble | Monday, November 2nd 2009, 11:06 GMT |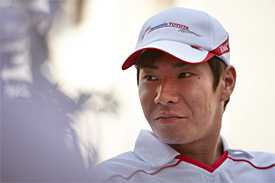 Kamui Kobayashi may be set to land a race seat at Toyota for 2010, but he has revealed that just a few weeks ago he thought his future was going to be making sushi at his father's restaurant in Japan.
The Japanese driver has made a big impression in his two race outings for Toyota - scoring points in Abu Dhabi and showing the world he is not afraid to fight with the big stars after overtaking world champion Jenson Button.
And although his speed has now made it almost certain Toyota will keep him in the car for next year, Kobayashi has said that were it not for the opportunity offered to him by Timo Glock's absence, he would likely have been forced to turn his back on racing because of a lack of finances.
When asked that if there had been no F1 chance for next year would he have returned to GP2, Kobayashi said: "No, no, no. I have no budget, no budget. So I cannot drive GP2 for next year.
"I would probably go back to Japan to maybe work with my father in his sushi restaurant! It was like that two months ago, seriously. When I was 16 years old, I worked there - making sushi!"
Kobayashi has said he knew that, after a disappointing campaign in GP2 this year, he needed to impress in his two race outings for Toyota.
"That was why for two weeks I was always in Germany [at Toyota's factory]," he said. "I came back to my home for just one day. Then I was in Germany for briefings. At that moment, I didn't know if I would be able to drive – but in case I was driving I knew I had one chance to show what I could do.
"So I had to think, I had to organise it before and understand what was happening. I had to do everything to understand what the problems were in Interlagos, and if I had the chance – everything, tyre work, car set-up, I worked on."
Although Toyota F1 president John Howett has said it 'looks like' Kobayashi will get one of the team's race drives in 2010, the man himself says he has been told nothing yet about the future plans.
"I don't know," he said about the future. "I have tried to be a Toyota driver for next year, but I didn't know how much I could show before. I just had to do the best at each moment – and it seems to have finally worked well. Still I have many things to do – I have to improve qualifying, and I need time. But in the last two weeks they have been quite good for me."
He added: "The future for me, I cannot decide. Of course I have got more chance, but I cannot decide for next year – so I am waiting for a long winter and we will see.
"I haven't signed anything. Of course, I still only have Toyota possibility because I am a Toyota young driver. But I don't want to believe so much. If I have to drive, I will drive and do what I have to do. I will prepare for next year to drive, but I cannot say anything about next year yet because it is not my decision."