Red Bull sure of stronger 2010 challenge
| | |
| --- | --- |
| By Jonathan Noble | Monday, November 2nd 2009, 09:26 GMT |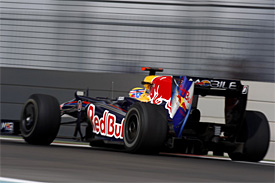 Red Bull Racing has warned its rivals that it will be even stronger in 2010, after ending the season with a hat-trick of victories.
Sebastian Vettel rounded off his campaign with a dominant win in Abu Dhabi - following the team's crushing triumphs in Japan and Brazil.
And although former title winners like Ferrari and McLaren are confident that they can re-establish themselves at the front of the field next year, Red Bull Racing thinks it can not only match what it did in 2009 – but actually do better.
The team thinks its campaign this year was wrecked by it not adopting the double diffuser early on – which cost its points in the first part of the campaign against main title rivals Brawn GP.
"If you reflect on the season for us, the damage was done in the first third," Red Bull Racing team principal Christian Horner told AUTOSPORT.
"I think in reality, probably the double diffuser had a big impact on that. Brawn GP made hay while the sun shone and also had great consistency and reliability – and we lost too much ground in the first phase of the championship.
"I think since Istanbul, we have outscored every team. As I say, the damage was done early on. We've developed the car continually through the season, and every member of the team in Milton Keynes can be very proud of what they have achieved this year.
"We have learned a great deal from this championship and it will make us stronger as a group."
He added: "We have got a secret weapon – and it is called Adrian Newey. He has produced a brilliant car this year. We did not start this year's car early, and there are a lot of lessons that will go from this year's car into next year's car."
Horner thinks an important factor in the team's push forwards is the fact that it ended the year so strongly.
"Winning the last race for me, if you don't win the championship, is the most important race to win," he said. "It sets up your whole winter.
"We have a big winter ahead of us – but we have had superb support from Red Bull, from Mr. [Dieter] Mateschitz. We've had great support from our engine partner Renault this year – this was their 121st Grand Prix win today. And from all our other partners it has been a great year. But 2010 starts tomorrow."
One of Red Bull Racing's first priorities in the next few days will be finalising its engine deal for next year – as it continues to chase a Mercedes-Benz tie-up.
If that does not happen, though, the team could yet remain with current suppliers Renault or switch to Cosworth.
"We really need to come to a conclusion, which I am sure will be done imminently," he said. "We need to start optimising the car around a specific power plant, but we will certainly not be ignoring the success we have achieved with Renault."