Hamilton confident of 2010 title shot
| | |
| --- | --- |
| By Jonathan Noble | Sunday, November 1st 2009, 10:32 GMT |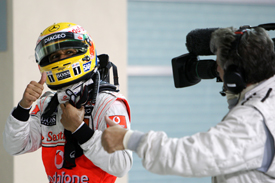 Lewis Hamilton says McLaren's late season surge has left him optimistic about the team being back in the hunt for world championship glory next season.
Although he still feels that the MP4-24 has its flaws, the outgoing world champion believes the fact the team got to the bottom of went wrong with its 2009 design is key to ensuring it gets its 2010 car spot on.
"It is extremely encouraging," said Hamilton about the end of year form. "I cannot express how encouraging it is. When you come from a team where for two years you have had a good, competitive car, to the beginning of the year where you had your doubts and you felt the car was just nowhere, and didn't know when or if it would get better, it is encouraging for the future.
"But it is also such an encouraging feeling to be working so close with everyone, my team-mate, and all the guys back at the factory. Bit by bit we are getting there."
Although McLaren opted to keep pushing with improving its current car this season, while rivals Ferrari and Renault switched all their efforts onto their 2010 cars early on, Hamilton thinks the team has not sacrificed any potential for next year.
"Sure you can always start earlier, but we had to understand and work with this year's car to know where we were going," he said.
"If you start making a new car but don't know where you've been or where you are coming from, then you cannot work on it. We think we have done a great job, a very good approach to understand mistakes and wrong routes/right routes with this car, to improve it to the point that we are now.
"But we have been focusing on next year's car for some time now so we should be quite strong."
And despite being one of the highest scoring drivers in the second half of the season, Hamilton thinks his current McLaren is still lacking compared to its rivals.
"Even though it is feeling quite good here on these slow speed corners, it is still not the best car by a fair amount," he said. "We still have a lot to improve on. And the foundations of the car are not perfect, so we need to improve that for next year.
"The faster we get, the worse the car gets in the high speed corners, and if we went to places like Spa we would struggle still. But the reliability has been good, the engine has been performing fantastically, and we have definitely got closer.
"If we had this car from the beginning we would have got closer, and if we had started from here we would have just continued to improve."