Farfus win keeps title hopes alive
| | |
| --- | --- |
| By Steven English | Sunday, November 1st 2009, 07:50 GMT |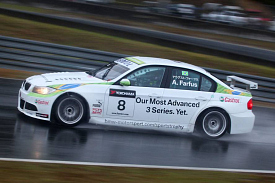 Augusto Farfus kept his slim World Touring Car title chances alive with his fifth win of the season in Sunday's second wet race at Okayama.
Farfus made a sound getaway from pole and had BMW team-mate Andy Priaulx riding shotgun for him - from eighth on the grid - by the exit of the first corner, thanks to carnage off the line.
Jorg Muller's fast starting BMW shot up to the front off the line and he tried to move inside Tiago Monteiro's SEAT for second place on the main straight. Monteiro squeezed Muller onto the wet grass, where the German lost control of his car and speared into the side of the SEAT. Muller was later given a drive-through penalty for his part in the incident.
Both cars spun off at the first corner, taking the SEATs of Jordi Gene and championship leader Gabriele Tarquini with them. Countless cars then flew off the road in all directions at the treacherous Turn 2, where aqua-planing was a problem all day.
That left a jumbled order at the end of the first lap, with Priaulx second, Tarquini's main title rival Yvan Muller surviving in third and Alain Menu - who had only missed out on the race two pole in the final corners of race one - up to fourth from eighth. Felix Porteiro was fifth, ahead of Jaap van Lagen, Stefano D'Aste, James Thompson, Tom Boardman, Nicola Larini and Kristian Poulsen.
The best of the charges back to the front came from Rickard Rydell, who peaked at seventh (from 13th) and Rob Huff, who made it up to sixth from 17th.
Farfus and Priaulx ran a controlled race up front - the only drama coming when Poulsen spun his car in front of the lead pack on the main straight.
Muller was grateful just to take a handful of points back from Tarquini in third, with Menu unable to make any impression on him from behind.
Jordi Gene had escaped the first corner in fifth, but carried damage with his rear bumper falling off during the race. The Spaniard once again played a team role and gave away four places - two to Chevrolets – in the last two laps to allow Tarquini through.
Rydell also moved over to give Tarquini two points for seventh, behind the Cruzes of Larini and Huff.
D'Aste claimed the independent class win in 10th after Tom Coronel was delayed by the spate of off-road excursions at Turn 2 on the first lap, and Porteiro went backwards from his early fifth to 11th. Coronel finished 13th, behind the BMW of Sergio Hernandez.
Lada had looked to be in for a good points haul with van Lagen sixth and Thompson eighth, but both pulled into the pits to retire within a lap of each other.
The charity of his team-mates means Tarquini is two points ahead of Muller heading to the season finale in Macau, with Farfus a further 11 back.
Pos Driver                     Car            Time/Gap
 1. Augusto Farfus             BMW          26m55.015s
 2. Andy Priaulx               BMW              0.761s
 3. Yvan Muller                SEAT             3.298s
 4. Alain Menu                 Chevrolet        5.878s
 5. Nicola Larini              Chevrolet       13.725s
 6. Rob Huff                   Chevrolet       17.538s
 7. Gabriele Tarquini          SEAT            24.104s
 8. Rickard Rydell             SEAT            26.212s
 9. Jordi Gene                 SEAT            27.272s
10. Stefano D'Aste             BMW             35.619s
11. Felix Porteiro             BMW             36.900s
12. Sergio Hernandez           BMW             37.866s
13. Tom Coronel                SEAT            41.110s
14. Joao Paulo de Oliveira     SEAT            49.317s
15. Tom Boardman               SEAT            58.394s
16. Franz Engstler             BMW           1m03.206s
17. Jorg Muller                BMW           1m07.306s
18. Alex Zanardi               BMW           1m10.579s
19. Seiji Ara                  BMW           1m18.816s
20. Masaki Kano                BMW           1m40.690s

Retirements

    Jaap van Lagen             Lada             9 laps
    James Thompson             Lada             8 laps
    Henry Ho                   BMW              6 laps
    Kristian Poulsen           BMW              6 laps
    Norbertu Taniguchi         BMW              3 laps
    Tiago Monteiro             SEAT             0 laps