Priaulx wins wet Okayama race one
| | |
| --- | --- |
| By Steven English | Sunday, November 1st 2009, 05:43 GMT |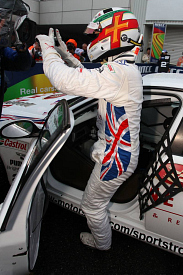 Andy Priaulx claimed his second World Touring Car victory of the season with a hard-fought win in a torrential first race of the day at Okayama.
A downpour half an hour before the start meant the race had to be started behind the safety car. When it peeled off at the end of the second lap, Priaulx inherited the lead almost immediately when pole-sitter and championship leader Gabriele Tarquini let his car drift too wide on the approach to Turn 2, Williams Corner, and slid wide across the grass.
Priaulx, who only missed out on pole by 0.050s in qualifying yesterday, needed no further invitation to stake his claim on the race. He and fellow BMW driver Jorg Muller moved away at the front, while third-placed Jordi Gene made a mistake and fell behind Rob Huff, and then slowed to sacrifice himself for his SEAT team-mates.
Huff was left to chase the BMWs from a distance, but Priaulx and Muller were left to contest the race between themselves in the closing stages.
Priaulx's car dropped off towards the end as he struggle with fading brakes. Muller closed in with three laps to go and attack him doggedly to the finish. There was plenty of powersliding and a bit of door banging, as Muller attacked at the hairpin and again at Redman Corner, but the team-mates kept it clean and Priaulx survived the final turns to clinch his 12th career WTCC win.
Yvan Muller was gifted fourth place by title rival Tarquini's first lap off, and Gene's sacrifice, while Tarquini himself recovered to fifth past Tiago Monteiro and Gene to minimise the loss to Muller.
Augusto Farfus continued the habit of his season by recovering from an incident on the first lap to take eighth place and pole position for race two. This time the Brazilian followed Tarquini wide at Williams Corner and dropped to 14th.
As he approached the top 10 he came across a battle for eighth already in full flow, between independent championship leader Tom Coronel, the Lada of James Thompson and the Chevrolet of Alain Menu.
Menu and Farfus made their way ahead of Thompson and Coronel and engaged each other in a heated scrap to the end. They touched several times before Farfus threw his car down the inside of Menu at Mike Knight Corner. There was contact when Menu turned in an the Chevrolet was punted wide over the grass, giving the place to Farfus.
Coronel completed the top 10 , with Thompson 11th and Nicola Larini 12th. Coronel's nearest class rival was Felix Porteiro in 14th, who survived a late duel for the place when Stefano D'Aste spun off on the last lap.
Pos Driver                     Car             Time/Gap
 1. Andy Priaulx               BMW           32m18.887s
 2. Jorg Muller                BMW               0.484s
 3. Rob Huff                   Chevrolet         2.552s
 4. Yvan Muller                SEAT             12.066s
 5. Gabriele Tarquini          SEAT             15.757s
 6. Jordi Gene                 SEAT             17.131s
 7. Tiago Monteiro             SEAT             18.693s
 8. Augusto Farfus             BMW              25.403s
 9. Alain Menu                 Chevrolet        28.163s
10. Tom Coronel                SEAT             30.133s
11. James Thompson             Lada             30.693s
12. Nicola Larini              Chevrolet        32.217s
13. Jaap van Lagen             Lada             40.278s
14. Felix Porteiro             BMW              50.587s
15. Alex Zanardi               BMW              55.891s
16. Kirill Ladygin             Lada             57.180s
17. Seiji Ara                  BMW              58.480s
18. Tom Boardman               SEAT           1m05.796s
19. Kristian Poulsen           BMW            1m09.905s
20. Norbertu Taniguchi         BMW            1m15.829s
21. Masaki Kano                BMW            1m28.415s
22. Joao Paulo de Oliveira     SEAT           1m29.405s
23. Henry Ho                   BMW            1m53.615s
24. Stefano D'Aste             BMW               +1 lap
25. Rickard Rydell             SEAT             +2 laps

Retirements

    Franz Engstler             BMW               3 laps
    Sergio Hernandez           BMW               2 laps