Raikkonen says 11th was the maximum
| | |
| --- | --- |
| By Edd Straw | Saturday, October 31st 2009, 16:17 GMT |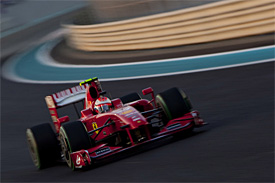 Eleventh place on the grid was the maximum that could have been achieved with the Ferrari F60, according to former world champion Kimi Raikkonen.
The Finn missed out on a place in the Q3 top 10 shootout by just over six hundredths of a second, but believes that it was not possible to have broken into the front five rows.
"Today we got the most out of the car, but we did not have the necessary performance to make it into Q3," said Raikkonen.
"Already yesterday, we realised that it would be tough, so this result is definitely not a surprise. Tomorrow, we will try to do our best, but it's certainly not going to be an easy race, even though we should definitely be more competitive in the race than in qualifying."
Raikkonen added that he considered his grid slot to be better than 10th, as he will have the chance to choose his race fuel load unlike the runners in Q3.
"What I can say is that eleventh place is better than tenth, given that I will start from the clean side of the track and can choose the ideal fuel load," he said.
With team-mate Giancarlo Fisichella last on the grid in what is set to be his final race appearance for Ferrari, McLaren is now in a strong position to beat the Scuderia to third in the Constructors' Championship.
But team principal Stefano Domenicali is still hopeful that his team can defeat its old rivals.
"It would be nice to end such a difficult year in a good way, which would mean securing our goal of third place in the Constructors' classification, but tomorrow, we will be facing a steep climb all through the race," said Domenicali.
"The situation is further complicated by the grid positions of our main opponents. All the same, the race still has to be run and in this sport, we have seen so often that nothing can be taken for granted. What we can be sure of is that we will give it our all."