Farfus leads final practice at Okayama
| | |
| --- | --- |
| By Steven English | Saturday, October 31st 2009, 02:59 GMT |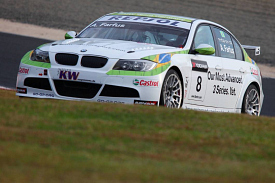 Augusto Farfus once again set the pace at Okayama, leading the final World Touring Car free practice session on Saturday.
The Brazilian again set his best lap very early in the session before concentrating on race preparation for the majority of the half hour.
BMW again filled the first two places, with Farfus's Schnitzer Motorsport team-mate Jorg Muller second this time.
Yvan Muller was third quickest, despite an off early on, with Rob Huff showing an improved pace for Chevrolet in fourth.
Championship leader Gabriele Tarquini was one of only few drivers to improve their times after the first few minutes, eventually climbing up to fifth place.
The SEATs and BMWs of Tiago Monteiro, Andy Priaulx and Rickard Rydell rounded out the top eigth.
Stefano D'Aste recovered from his crash at the beginning of the day's earlier practice to set the ninth best time, with fellow independent runner Felix Porteiro completing the top 10 in his BMW.
James Thompson was another to bounce back from problems this morning, setting the 14th fastest time in the first of the Ladas.
Independent championship leader Tom Coronel was only 19th in his SUNRED-run SEAT, with Super GT regular Seiji Ara the best of the guest drivers in 21st.
The session was stopped only once, while Masaki Kano's car was recovered at Turn 9 with five minutes remaining.
Pos Driver                   Car          Time       Gap    Laps
 1. Augusto Farfus           BMW          1m39.786s           13
 2. Jorg Muller              BMW          1m39.861s  +0.075   13
 3. Yvan Muller              SEAT         1m39.924s  +0.138   13
 4. Rob Huff                 Chevrolet    1m40.070s  +0.284    8
 5. Gabriele Tarquini        SEAT         1m40.161s  +0.375   12
 6. Tiago Monteiro           SEAT         1m40.163s  +0.377   11
 7. Andy Priaulx             BMW          1m40.203s  +0.417   13
 8. Rickard Rydell           SEAT         1m40.262s  +0.476   11
 9. Stefano D'Aste           BMW          1m40.302s  +0.516   16
10. Felix Porteiro           BMW          1m40.363s  +0.577   15
11. Jordi Gene               SEAT         1m40.379s  +0.593   11
12. Franz Engstler           BMW          1m40.422s  +0.636   10
13. Alain Menu               Chevrolet    1m40.480s  +0.694   11
14. James Thompson           Lada         1m40.502s  +0.716   10
15. Alex Zanardi             BMW          1m40.564s  +0.778    8
16. Kristian Poulsen         BMW          1m40.799s  +1.013   12
17. Sergio Hernandez         BMW          1m40.814s  +1.028   12
18. Nicola Larini            Chevrolet    1m40.902s  +1.116   12
19. Tom Coronel              SEAT         1m40.954s  +1.168   13
20. Tom Boardman             SEAT         1m40.994s  +1.208   12
21. Seiji Ara                BMW          1m40.997s  +1.211   14
22. Norbertu Taniguchi       BMW          1m41.321s  +1.535   13
23. Joao Paulo de Oliveira   SEAT         1m41.581s  +1.795   16
24. Jaap van Lagen           Lada         1m42.006s  +2.220    9
25. Kirill Ladygin           Lada         1m42.210s  +2.424   15
26. Masaki Kano              BMW          1m43.342s  +3.556   10
27. Henry Ho                 BMW          no time              1